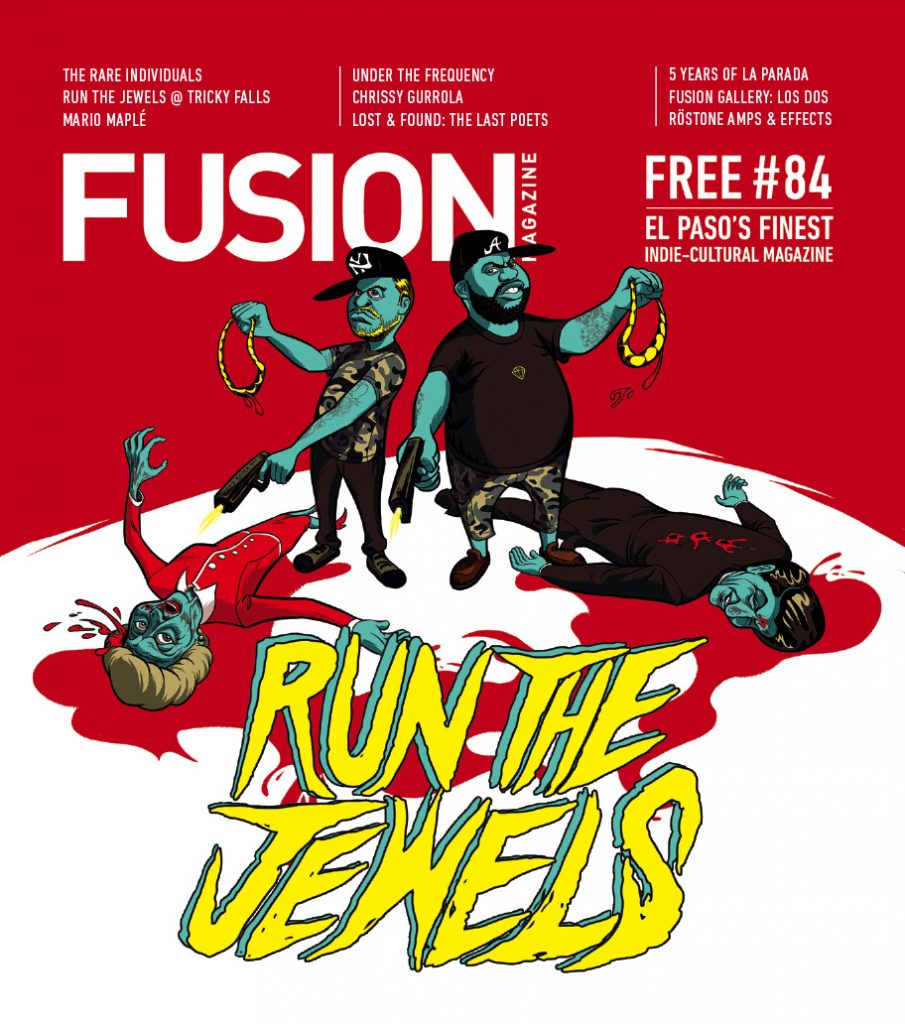 Fusion Magazine edición 84 llego con Run the Jewels matando zombies en portada, la banda conformada por los raperos El-P y Killer Mike visitan El Paso Tx, este 30 de Septiembre con todo y su explosivo Hip-Hop. Este mes traemos contenido único para Fusion Mag y entrevistas exclusivas con la banda de hip-hop The Rare Individuals, el artista Mario Maplé y la cantante Christina Gurrola, también tenemos un articulo sobre la serie de documentales llamados Under The Frequency que muestran el talento local de artistas, músicos y cineastas, esta serie esta estrenando actualmente su segunda temporada. En nuestra serie Lost & Found donde encontramos música perdida tenemos a The Last Poets banda de rap oriunda de Harlem y creadores del "Proto Rap", puedes escuchar este disco y otras listas en nuestro perfil de Spotify.
La Parada, cumple 5 años y aprovechamos para hablar con los fundadores de este único evento que se lleva a cabo cada mes. En música tenemos a Kelela, La Musa Anfibia, cantante de orígenes Etíopes quien fuera apadrinada por Yukimi Nagano de la banda Little Dragon.
El mundo de los amplificadores y efectos para guitarras es bastante extenso, en esta edición hablamos con el creador local de Rostone Amps & Effects quien habla de su marca. Tampoco podemos olvidar la fiesta única que dará la tienda de música Mother of Pearl este próximo 12 de Septiembre en Union Plaza con excelentes artistas como Neon Indian, Mike Jones, J Rocc, Peanut Butter Wolf y muchos mas.
En nuestra sección Fusion Gallery tenemos el trabajo de Los Dos, artistas locales que intentan vincular su arte con estas dos ciudades hermanas, creando una serie de murales a lo largo de los dos lados de la frontera.
Busca Fusion Mag en su versión impresa en nuestra lista ubicada en nuestra pagina y ahí mismo puedes encontrarla en versión digital.
Y recuerda: WE ARE PRINT | WE ARE REAL.
#PRINTISNOTDEAD