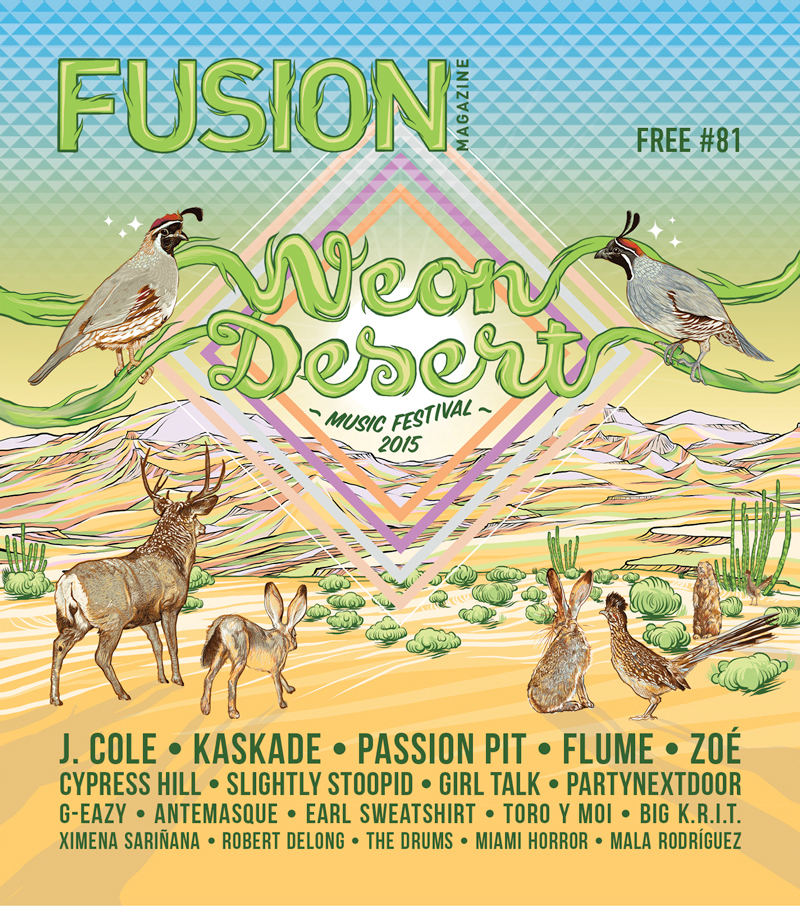 El Paso's very own Neon Desert Music Festival is back bigger and better than ever! And we're excited to present our 81st issue of Fusion illustrated by Tim Razo!
Our NDMF edition features Hip-Hop heavyweight Sen Dog of Cypress Hillas well as interviews with Girl Talk, G-Eazy, La Mala Rodriguez, Slightly Stoopid, and ANTEMASQUE's Cedric Bixler-Zavala talks 90's El Paso music with us. Check it out!
El festival Neon Desert Music Festival en El Paso, Texas, está de regreso! Y más grande y mejor que nunca!, y estamos emocionados de presentar nuestra portada numero 81 de Fusion Mag ilustrada por el artista Tim Razo.
En nuestra edición especial del Neon Desert traemos para nuestros lectores entrevistas con gente importante en el mundo del Hip-Hop, como Sen Dog de Cypress Hill, también tenemos entrevistas con Girl Talk, G-Eazy, La Mala Rodríguez, Slightly Stoopid y Cedric Bixler-Zavala de la banda ANTEMASQUE donde habla con nosotros de la música de los 90's en El Paso, checa todo nuestro contenido sobre este gran evento y !Nos vemos en el Neon Desert!