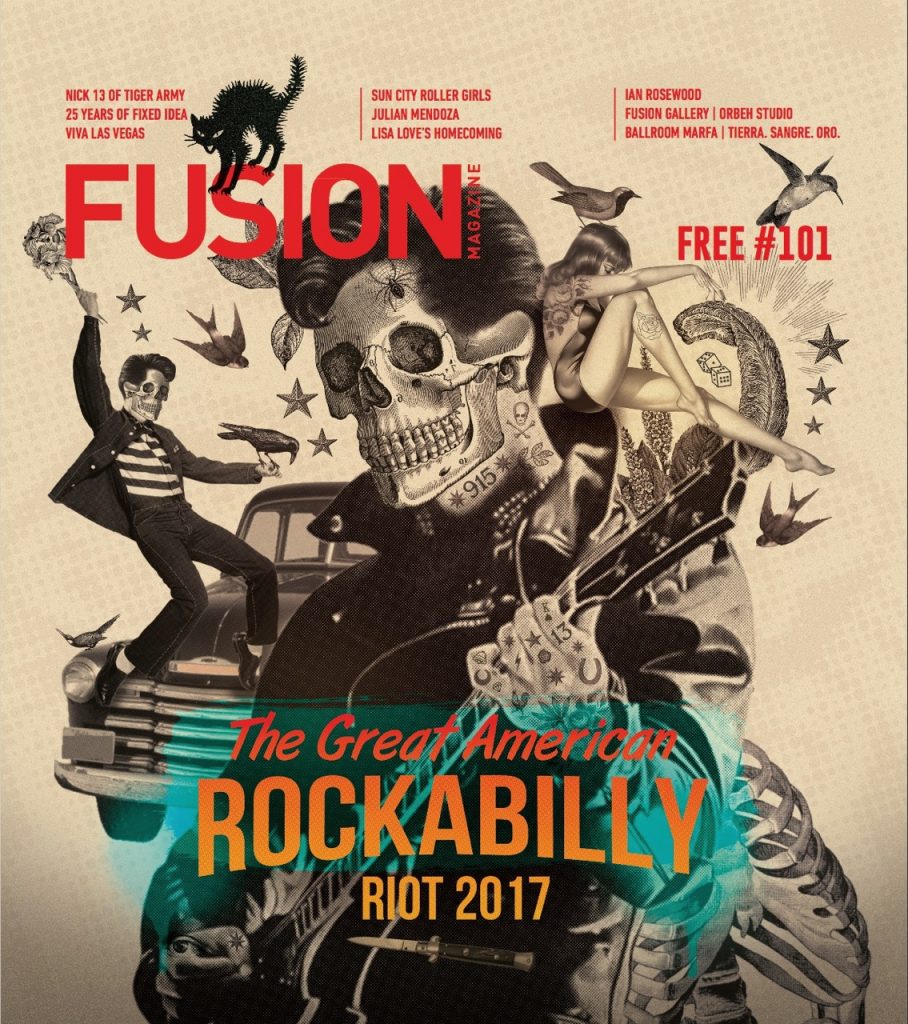 Fusion Magazine presents Issue 101 featuring The Great American Rockabilly Riot—a festival highlighting music, hot rods, pin-up models, tattoos and roller derby! Our cover illustration, which pays homage to the fest, was made by talented artist Guillermo Flores creator of Orbeh Studio in Guadalajara, Mexico. We put the spotlight on Guillermo's art work in this month's Fusion Gallery.
The Great American Rockabilly Riot gears up for its 7th year this Labor Day weekend and headlining the music stage is psychobilly band Tiger Army! Lead singer Nick 13 spoke with us about their music and coming of age. We also feature local ska band Fixed Idea as they hit a milestone and anniversary celebrating 25 years of music. They  are also scheduled to perform at this year's fest. Ciudad Juárez rockers Viva Las Vegas and Chihuahua's rockabilly musician Ian Rosewood close out our music features.
We speak with El Paso native and pin-up model Lisa Love who will present this year's Rockabilly Riot Pin-up Pageant as well as host a booth to meet and speak with fans and collectors. We highlight southern California artist Julian Mendoza who creates impressive classic 50's themed art such as zoot suiters and vintage Chevy cars.
We focus on what it's like to be inside a roller derby skating rink with El Paso's very own Sun City Roller Girls. They give us the inside scoop on how intense it really is! Lastly, we come full circle in our Rockabilly Riot edition by highlighting the art of a few local tattoo artists in Tattoo Arena.
Our west Texas neighbors over at Ballroom Marfa (in Marfa, TX) are doing great things in the art community. They're currently showcasing Tierra. Sangre. Oro.—an adobe brick art installation by Los Angeles based artist Rafa Esparza. Esparza shares with us his thoughts and the inspiration motivating his work.
Lastly, we close out issue 101 by turning our attention to El Paso indie-rock band Acid Pie who just released their 3rd album Watergun. We listen to their album and speak with them about how the songs and album came together, as well as coming out of a 3 year album hiatus.
We'd like to thank you once again for all of your continued support! We'll see you this Labor Day weekend at the Great American Rockabilly Riot….PRINT IS NOT DEAD.
Fusion Magazine presenta la edición #101, con The Great American Rockabilly Riot, ¡un festival de música, hot rods, modelos pin-ups, tatuajes y roller derby! Nuestra portada homenajea esta celebración y fue creada por el talentoso artista Guillermo Flores, fundador de Orbeh Studio de Guadalajara, México. Guillermo aparece también en el Fusion Gallery de este mes.
The Great American Rockabilly Riot se prepara para su séptimo aniversario este fin de semana de Labor Day. La banda psychobilly Tiger Army encabeza los escenarios este año y hablamos con su líder, Nick 13, acerca de su música y su coming of age. También presentamos a la banda de ska, Fixed Idea, que están celebrando 25 años de hacer música, y quienes también estarán presentándose en el festival. Los roqueros de Ciudad Juárez, Viva Las Vegas, y el chihuahuense rockabilly, Ian Rosewood, cierran nuestra sección de música.
Hablamos con la modelo pin-up local de El Paso, Lisa Love, quien se presenta este año en el Rockabilly Riot Pin-Up Pageant, y tendrá un booth donde conocerá y hablará con fans y coleccionistas. También resaltamos al artista del sur de California, Julian Mendoza, quien crea impresionante arte clásico y temático de los años 50's, como trajes zoot y carros Chevy vintage.
Nos metimos a la pista de roller derby con las Sun City Roller Girls de El Paso para ver cómo funcionan las cosas. ¡Nos dieron una cucharada de qué tan intenso realmente es! Para cerrar el círculo de la edición Rockabilly Riot presentamos a algunos artistas locales de tatuajes en Tattoo Arena.
Nuestros vecinos del oeste de Texas, en Ballroom Marfa (en Marfa, TX) están haciendo grandes cosas en la comunidad del arte. En este momento se encuentran presentando Tierra. Sangre. Oro. —una instalación de arte con ladrillos de adobe, por el artista de Los Ángeles, Rafa Esparza, quien comparte con nosotros sus pensamientos e inspiración motivando su trabajo.
Ponemos fin a la edición #101 con la banda indie-rock de El Paso, Acid Pie, quienes acaban de lanzar su tercer álbum, Watergun. Escuchamos el álbum y hablamos con ellos de cómo fue el proceso de creación y de salir de su hiato de tres años.
¡Les agradecemos de nuevo por su apoyo constante! Nos vemos en el fin de semana del Labor Day en el Great American Rockabilly Riot…PRINT IS NOT DEAD!