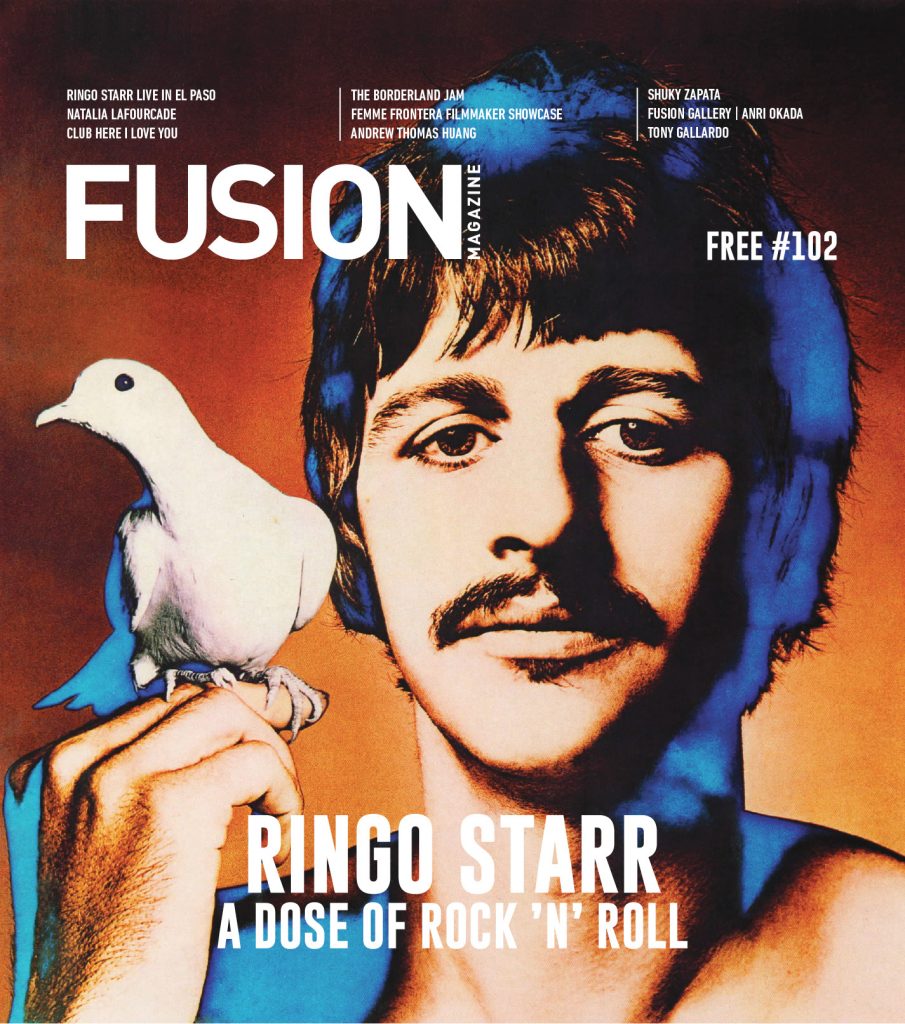 FUSION 102 OUT NOW!! With Ringo Starr in our cover!!- Ringo Starr shows no signs of stopping and is breaking through at the speed of sound, with a new album and fall tour. Back on the road with his All Starr Band, Starr is headed to El Paso October 30th at the Abraham Chavez Theatre, same lineup he's been rocking out with since 2012 which also includes 70s pop-rocker Todd Rundgren.
 We have the best content in the border and you know it!! This is a Fusion Mag #102 little peak: 
Club Here I Love You is a thoughtful return to the roots; it has everything it needs and nothing it doesn't: "It's just the sound system, the dance floor and the DJ—back to the basics."
The Second Annual Femme Frontera Filmmaker Showcase was September 23rd at the Alamo Drafthouse. The event is one of the region's premier exhibits which highlights the passion, perseverance and vision of some of the country's most innovative female film makers.
Ojos de la Frontera – Eyes of the Border – Foto Frontera 2017. Eleven inspiring photographers have been gathered to be featured in Foto Frontera—the 4th Annual Visual Stills Invitational Photography Exhibition. Visual tales of fantasy, trial and tribulation, color, texture, life, solitude, and humor are a few of the themes intrinsic in this year's exhibition.
For Graffiti Artists, the Writing's on the Wall-Graffiti art is one of the most misunderstood art forms, at a historic and chaotic crossroads between culture and crime. Throughout the city we see evidence the medium is alive and well, and the weekend of October 7th will mark the 7th annual celebration of graffiti culture.
FUSION 102 OUT NOW!! Nuestro número más reciente tiene la fortuna de contar con la leyenda viviente Ringo Starr, el Beatle al que no le pesa la fama, el que aún disfruta de la misma, el actor y músico, no muestra que va a parar de hacer shows ylo hace mientras promociona su nuevo álbum y su gira de otoño, vuelve al camino con su All Starr Band, visitará El Paso este 30 de octubre en el Abraham Chavez Theatre, con su misma banda y alineación, que sigue haciendo rock desde el 2012, la cual también incluye al famoso Todd Rundgren.
¡En nuestras páginas tenemos todo el mejor contenido cultural de la frontera y lo sabes!
Platicamos con los dueños del club Here I Love You en El Paso, Tx, y nos comentan que su bar es un regreso a las raíces, tiene todo lo que tiene que tener y nada más, "sólo el sistema de sonido, el dance floor y el DJ—back to the basics"
El lettering es crear ilustraciones con letras, números o cualquier carácter o frase y eso mismo hace el artista juarense Shuky Zapata, tipografías, letras, trazos especiales es lo que mejor sabe hacer.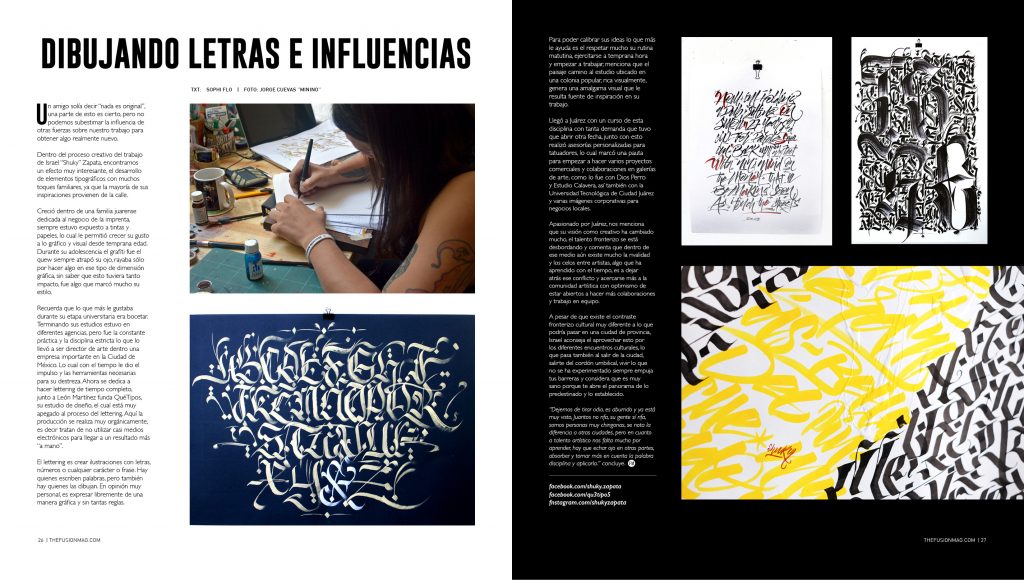 Platicamos con Los Mundos, banda de Monterrey que combina géneros como el stoner rock con pedales fuzz, es la segunda vez que aparecen en nuestras páginas y la razón es el lanzamiento de su nuevo material, ¡tienes que escucharlos!
Desde Japón hacia el Fusion Gallery exponemos el trabajo de Anri Okada, artista japonesa que se enamoró de Fusion Mag mientras hacía una exposición en la ciudad de Chihuahua y engalana nuestra amada sección.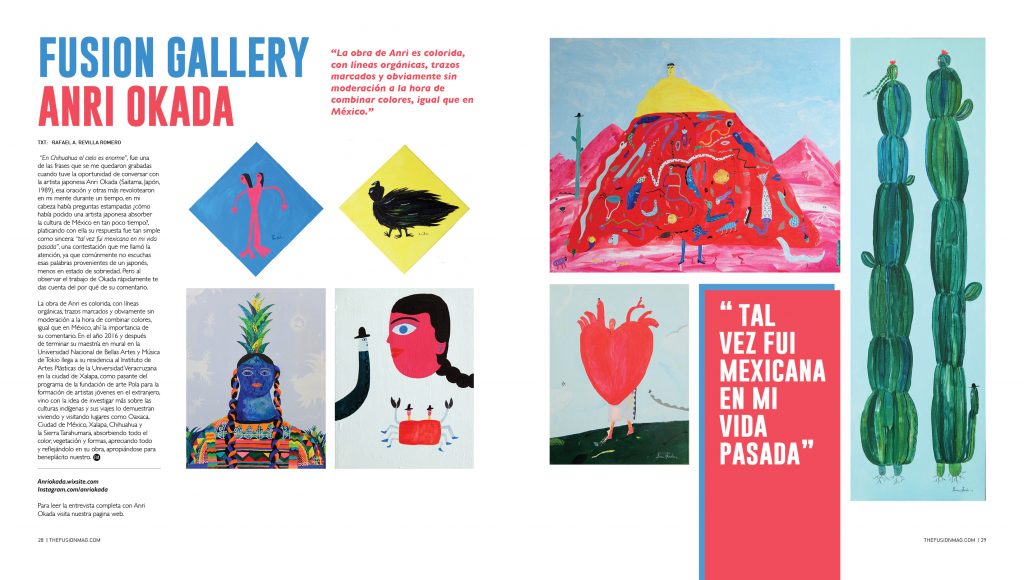 Para muchos hablar sobre la creación de proyectos digitales o virtuales es hablar de un mundo cuadrado que es entendido sólo por aquellos que saben de programación, comandos y formulas, sin embargo, hay personas que han llevado este lenguaje a una complejidad artística de magnitudes inimaginables, Andrew Thomas Huang es uno de ellos.
Es difícil y sobre todo imposible hablar de María y José como el único proyecto de Tony Gallardo, sus innumerables y expresivas personalidades se hacen presentes en su cabeza y consecutivamente en su música. Su propuesta musical es interesante y particular gracias a sus alias y la forma en que maneja esas voces y ritmos que lo obligan a crear todo tipo de música, pudimos conversar con él y vaya que tenía de qué hablar.
En esencia Natalia Lafourcade siempre ha sido aventurera, la búsqueda incesante es la característica principal en cada uno de sus proyectos. Considerada por muchos la artista mexicana más talentosa de su generación, tenemos el gusto de recibirla este 5 de octubre en The Plaza Theatre de El Paso.
El segundo Annual Femme Frontera Filmmaker Showcase sera este 23 de Septiembre en el Alamo Drafthouse de El Paso, Tx., este evento es único en la región porque demuestra la pasión, perseverancia y visión femenina de las más innovadoras cineastas del país.
Ojos de la Frontera – Eyes of the Border – Foto Frontera 2017. Once fotógrafos estarán expuestos en la 4a edición del Annual Visual Stills Invitational Photography Exhibition, exhibiendo su trabajo lleno de color, textura, humor y vida.
Esto es sólo una pequeña probada de todo lo que nuestra edición #102 contiene en sus páginas, puedes leernos en nuestra versión digital o impresa (búscanos en nuestros puntos de distribución) #PRINTISNOTDEAD.
WE ARE REAL, WE ARE PRINT.