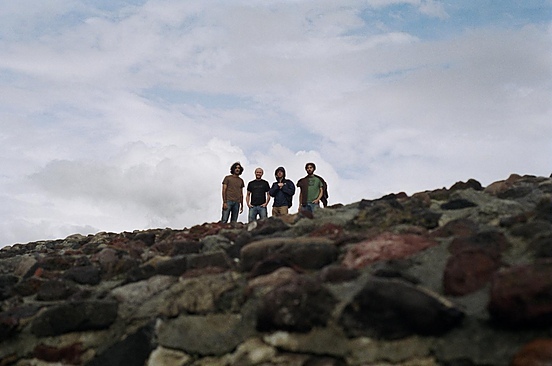 EXPLOSIONS IN THE SKY
Free Show at Vizcaino Park In Marfa, Texas
September 15-2011, Doors 7 Pm
Explosions in the Sky. Photo courtesy of the band and Constant Artists. info: via Ballroom Marfa
Thunder and lightning. Fireworks. Comets and asteroids, satellites and rockets. Shooting stars. A flock of birds, taking off from the power line. Your heart. This band.
Explosions in the Sky is one of the greatest bands in the world. Some bands are a sound, a certain feeling, and some bands are a voice, and some bands are a kind of song, and some bands are a wall of energy. Explosions in the Sky is a musical gateway that you walk through, into a different version of your world that was filmed to rise and swell in beauty until it could match this soundtrack.
I am thinking about the word symphonic, what it means to be symphonic. Because Explosions is symphonic, but in a different way than, say, the Arcade Fire, and not just because this is an instrumental band. I feel like the difference is more about intent. In an actual symphony, you have a bunch of classical music geeks who have spent hundreds of hours learning to play a kind of music that is now ignored by most, knowing that after all of that work they will be decidedly un-famous, getting very little personal glory, but doing this because they love that music so much and they are thrilled to be able to play it. Explosions in the Sky is the rock & roll version of this. I've been listening to this band for at least five years, and I have no idea what any of their names are or what they look like. When I saw them live, there was no front man, no star. They felt like an ensemble.
And it doesn't feel like this music is trying to make me feel something, to have a certain effect. It feels instead like the people playing this music have their backs to me as they chase after something. Like they are trying with all their might, with their eyes closed, to capture and play the sound of what it feels like to be alive right. And as I hear it, it sounds to me like what it feels like to be alive right now in my skin, in my world. It feels like it is entirely mine, even though it is also theirs.
Let me say this: Explosions in the Sky, outside on a summer night, in Marfa, Texas, for free? Anyone who lives in Texas and could possibly go and yet chooses to miss this show is, by definition, insane.
New York rockers Twin Sister open the show. Twin Sister create hypnotic pop a la Galaxie 500, with some Tusk-era Fleetwood Mac thrown in, and a shot of Lynchian synthy weirdness for good measure. They're slack yet focused, a spark in the dark distance on a desert highway where speed is relative. Think the Pains of Being Pure at Heart, with nods to the Cocteau Twins, Luscious Jackson, and Björk. Doors at 7 pm. Twin Sister plays at 7:30 pm. Explosions at 8:30 pm.