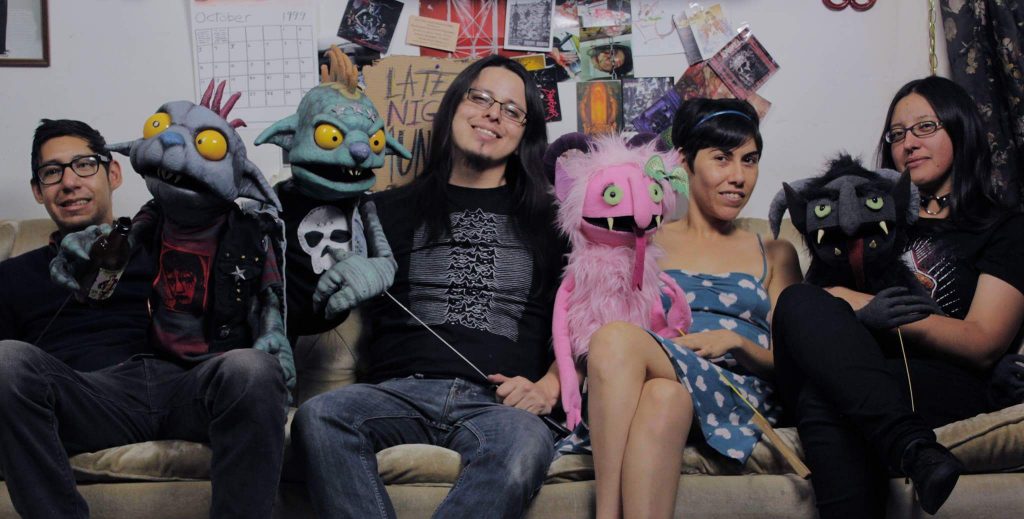 Text: Denise Nelson Prieto
El Paso is home to scores of talented artists who work in all mediums. While this situation is great for  art buyers, collectors, and enthusiasts, it presents a challenge for artists: how to stand out from the crowd.  A group of four locals has taken on this daunting task with vigor and enthusiasm, and you know what? They've succeeded.
Fleeced and Confused is a puppet troupe who's creation was sparked by the love of all things Jim Henson.
"Most of us grew up loving Jim Henson, you know, Sesame Street, the Muppets," said troupe member and puppeteer Anahi Rodriguez.
Michelle Delgado, fellow puppeteer and member, echoed that sentiment:
"All of us were big "Muppets" and Henson fans growing up. We still love [Henson movies] "The Labyrinth" and "The Dark Crystal."  When we came into each other's lives, we discovered that we all have that in common."
You'll get a chance to catch the group at Dreadful Things this Saturday, September 10, at the shop's artist bazaar titled "Devine Deviants."
The felt, foam, paper, and latex creations are brought to life by husband and wife team Rodriguez and Gino Ybarra, along with Delgado and her boyfriend Ray Pelegrino.
The idea to create the troupe was incepted last August when Delgado arranged a Henson-inspired coloring book project and show, which took place at the novelty shop, Dreadful Things. Having already built a Krampus puppet for a previous show and thus already bitten by the puppet bug, Delgado was motivated to make more puppets for the Henson tribute. Rodriguez, who'd already been searching for a reason to start making puppets, now had the impetus to do so.
From there the city's first "Labyrinth" shadow cast was born. Last September at Dreadful Things, a screening of the movie played simultaneously with live actors and puppets acting out scenes.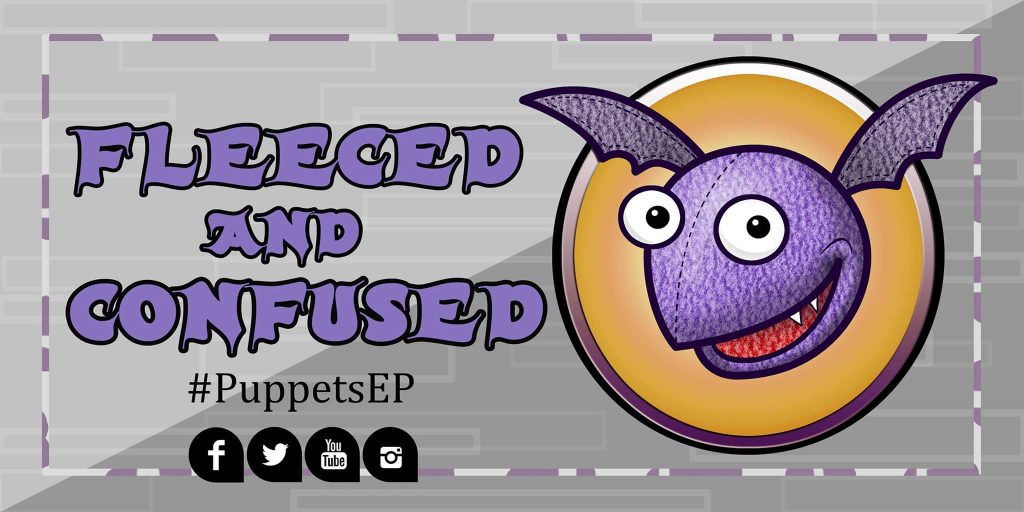 The group has since taken its shadow cast show to a bigger venue. This summer they performed it at the Alamo Draft House to a sold out crowd. For this rendition the group used five goblin puppets and one who represented Hoggle, the character in the film who defies Goblin King Jareth (brilliantly played by David Bowie) and befriends the film's protagonist, Sarah (portrayed by Jennifer Connelly). Along with the puppets were live actors who performed scenes concurrently with the movie. Rodriguez directed the production.
"We got really lucky doing the shadow cast at the Alamo draft house," Rodriguez said. "The first time we did it was in a back alley parking lot; within a year we've come a long way."
The puppets are hand-made and custom-designed by each member. Ybarra has created a series of YouTube tutorials on his own special brand of puppet-making. Although steeped in a tradition that goes back more than 3000 years, the art of puppetry has suffered a decline. However, the Fleeced and Confused group has enjoyed a spate of success they hope will continue throughout their duration.
"We've really hit the ground running and been pleasantly surprised by the response we've gotten," Rodriguez said. "We'll be out on the streets and people will come up and say 'Oh you're the people with puppets'."
Each of the members also pursue other creative endeavors, including music, dance, sculpture, photography, and other artistic mediums. Both Delgado and Rodriguez see these pursuits as a way to instill each member with the necessary skills and experience required of their puppet-making and performing ventures.
The creative genius of Fleeced and Confused goes beyond shadow casts however. The group has put together a few shows for its YouTube channel. "Late Night Munchies" is hosted by goblin Cap'n Chex and voiced by Peregrino, a somewhat coarse and often obscene interviewer. On each episode the character interviews different locals. Past interviewees include Dreadful Things owner, Francella Salgado, drag queen Davita Knockers, and KLAQ DJ Fernie Cuevas.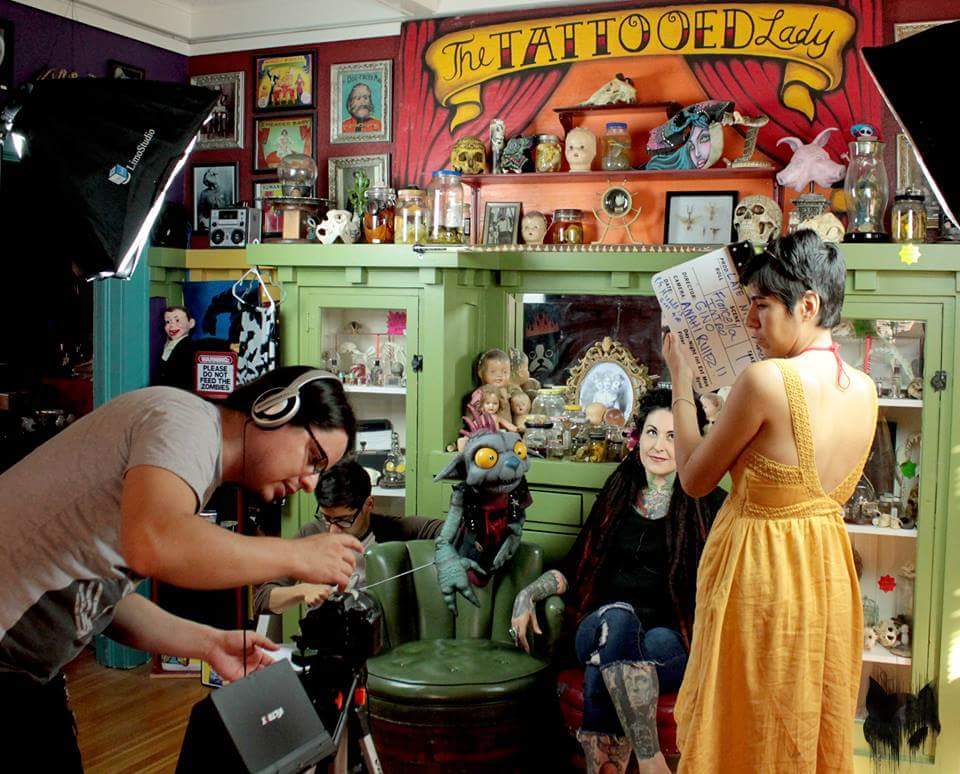 Delgado explained how the show was created on a whim:
"It was one of our puppeteer's birthdays and we were just hanging out. Someone said 'lets interview someone with a puppet.' So Cap'n Chex interviewed some people; it was totally improvised. Gino edited it later and showed it to us. We were cracking up and like 'We need to do this.'
Another show, "Rock the Cabra," features Cap'n Chex and fellow goblin, Carn Flayk, voiced by Ybarra. The show centers on skits that portray topics like fast food poetry, has-been hunk, and "Baywatch" star David Hasselhoff-inspired beer, aptly named "Hasselhops," and another brew-themed premise "Odeme Brown Ale," which is a spin-off of the 1980s Demi Moore/Patrick Swayze tearjerker, "Ghost."
In what Delgado described as a "kid-friendly, clean, fun" production, puppets Krampus and Lola, voiced and co-written by herself and Rodriguez, compare the qualities of different toys. Products like the Ugglys Pet Shop, the vintage and current versions of the Teenage Mutant Ninja Turtle characters "Bebop" and "Rocksteady," and Funko Pop creations "Discord" and "Nosferatu" are discussed. Within the course of the discussion the two manage to battle each other with under handed comments, sarcasm, and all-out insults.
The newly-launched "2 Squared" features Lola and Krampus and topics such as the "The 4 Best 90s Cartoons" and other scenarios.
Fleeced and Confused's most recent endeavor is an upcoming puppet expo in Anaheim, California next month. At the event the group will participate in a panel discussion. Their videos and puppets will also be on display.
Michelle Delgado sees their participation at the expo as a way to "represent El Paso and what we have going on here."
The group plans to hold a live taping of "Late Night Munchies" as a fundraiser to offset costs of the Anaheim trip.
This Saturday, September 10th, Fleeced and Confused will be featured at Dreadful Things' monthly artist extravaganza
You can check out the troupe's videos and ideas by becoming a member of Patreon, a crowdfunding site for artists at www.patreon.com/fleecedandconfused, on Facebook at facebook.com/FleecedandConfused/, and their YouTube channel.
"Devine Deviants" @ Dreadful Things, 2226 Montana Ave
6 PM—12 AM
FREE