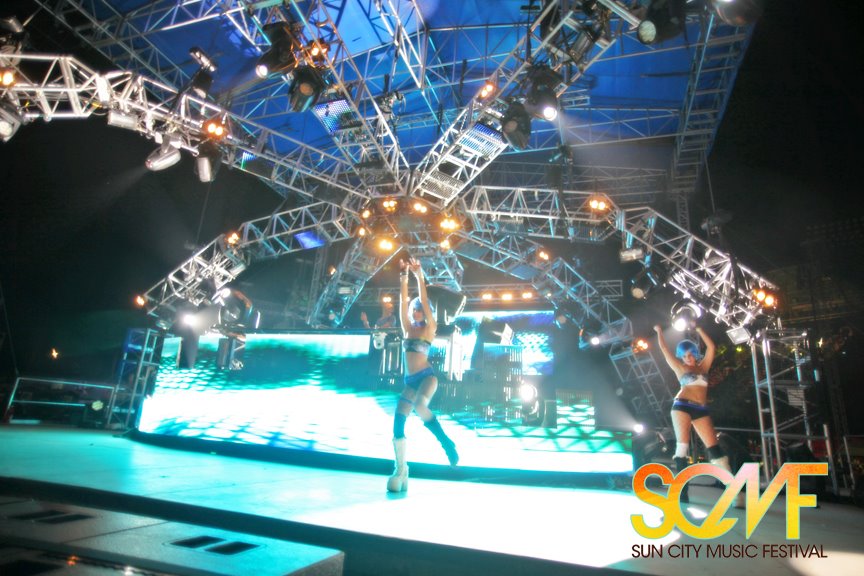 The excitement has been successively building for months now, and in just a few more days the Sun City Music Festival will finally launch its two-day long festivities for Labor Day Weekend, September 1-2. Hosted in Ascarate Park this year, the festival is featuring an impressive roster of over 30 of the world's most recognized and up-and-coming electronic music artists.
Headlining the Sun City Music Festival this year is international sensation David Guetta, Above & Beyond, who are in the middle of their worldwide 'Group Therapy' tour, English dubstep producer Flux Pavilion and Knife Party, whom released their second EP 'Rage Valley' earlier this year. A full schedule of performers can be found on the Sun City Music Festival website.
'The lineup is determined by supply and demand,' explains Adam Lucero of SMG Events, ' In addition to the headlining acts, we also try to book some of the promising acts that we know have a bright future. Across the board we try to have a little something for everybody.'
The festival is organized by El Paso marketing group SMG Events, who are known for orchestrating high profile productions all around the Sun City and regularly draw in massive crowds for well known names in the EDM (electronic dance music) industry such as Steve Aoki, Eric Prydz, Kaskade and more.
The history of SMG Events is a story of passion for the EDM culture and a product of the mid 1990's rave generation.  '[SMG] got started as part of a different production; it started out with house parties back when raves were the illegal parties that took place out in the desert" reveals Lucero. 'When you're young, you don't care about the consequences. You're just there to party for the weekend. That was part of that whole generation.'
Although the Sun City Music Festival has been on the radar for a couple of years, it really came to life in 2011 at Cohen Stadium. 'We had the opportunity to pick up a pretty big line-up and we already had the mindset that we wanted to brand a festival. When SMG was presented with the opportunity, it spiraled into a fully fledged project,' Lucero says.
Last year, SMG only had about 5-6 weeks to make the festival a reality and to market it. Despite the relatively short time window that SMG had to work with, SCMF 2011 managed to bring in a little under 20,000 attendees within two days. This year, the festival will not be taking place at Cohen Stadium. Instead, Lucero chose Ascarate Park as the new venue. Its 448 acres of land make for a perfect location for such a large scale event. 'It's a beautiful venue and has a lot of potential. It's one of El Paso's best kept secrets.'
When asked about his best experiences with the Sun City Music Festival, Lucero fondly reminisces: 'You have this sense of unity and camaraderie. Thousands of people with their hands up in the air; it's like a euphoric sense of bliss. It's hard for words to describe the feeling. That's what we're trying to do. We hope that it will encourage more people to come down to El Paso and bring a friend or two. Have those people say "I can't wait for next year".'
Gates open at 5 pm on Saturday and Sunday. Tickets will be available at the gate for the rate of $65 for a single day and $109 for a weekend pass. Full details and answers to frequently asked questions can be found at the Sun City Music Festival website.(http://www.suncitymusicfestival.com/info.html)
SCMF Artist Interviews:
Above & Beyond (http://www.suncitymusicfestival.com/post_aboveandbeyond_interview.html)
M.A.N.D.Y. (http://www.suncitymusicfestival.com/post_mandy_interview.html)
Get Connected
Sun City Music Festival Website: http://www.suncitymusicfestival.com
Twitter: http://twitter.com/OfficialSCMF
Facebook: https://www.facebook.com/suncitymusicfestival
YouTube: http://www.youtube.com/user/smgevents
TXT: Crysti Couture
PHOTOS: Mario Arizpe (C) 2012