From the first transmissions broadcast in 1906 to the now worldwide availability of satellite programming, radio broadcasting has matured throughout the past century at a fantastical pace. In the golden age of radio, families gathered around their Magnavox radios listening to 'Amos n' Andy' or 'Buck Rogers'. Now, you can listen to live casts of sporting events, concerts and news in real-time, at any time.
Local rock radio station KLAQ (95.5 FM) has maintained and solidified their presence in the Borderland since 1978 and Glenn Garza has been a part of their legacy for the last 18 years. His genesis began as an overnight jockey, and then from there worked his way up to the Assistant Program Director title he now holds. Glenn graciously granted Fusion Magazine an interview to discuss his journey through the radio industry, his philosophy on music, and the future of broadcasting.
When did you have that moment when you realized that this is what you were going to be doing for a living?
It still hasn't happened yet. I keep expecting my key not to work every day!
My brother was the program director with KLAQ when I was younger and I was a typical tag-along little brother: always following him around, watching him, and thinking 'Hey I wanna do that!' When I got old enough, I left to Dallas, thinking I could get a start there. It didn't work out, so I came back to El Paso and put in my application in to KLAQ. They eventually called me back to do the Saturday overnights. I accepted, figuring that it would lead to bigger things.
From there, it was just a matter of working my way up. I went from midnights to evenings, then from evenings to mid-days and went from just a jock to music director then from music director to assistant program director. It's been a journey but it's been worth it. It's been a blast!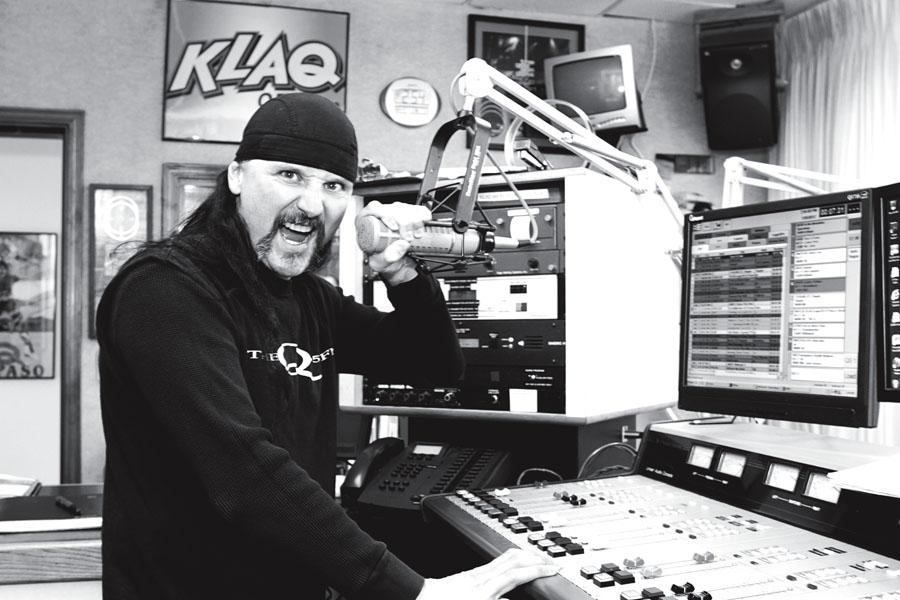 What sort of things do you do as an Assistant Program Director?
I basically keep track of all the new stuff that's coming out. Sometimes, we get 50 CDs a day coming into the station. It took me a long time but I've finally gained a keen focus on the local bands through 'Q-Connected'.
How do you determine what to play on air?
We can't play everything. Honestly, if I were to play all our deliveries, one song at a time, only once, it would take at least a year to go through all of it!
I may choose not to play a track because it's not a good song or I think it's stupid or it's nothing but the f-word – there's no artistic merit to it. At that point all it comes down to is choice. Is it a good song? Is it well produced? Is it catchy? Does it sound like something that people want to listen to?
How has radio broadcasting changed since you started in 1995?
It's gotten harder and easier at the same time. We do more than just radio; we do remotes and events like KLAQ Balloon Fest, the Downtown Street Fest and the KLAQ BBQ.
Technologically, the changes have been monstrous. The way that the web and radio have embraced each other is phenomenal and we are literally worldwide now. If you listen to the KLAQ stream online, you can be anywhere in the world. We've got a huge listener base in Afghanistan and Iraq because a lot of those soldiers served here at Ft. Bliss. They listened to the Q, loved it, and continue to listen now.
What do you think the future of radio holds?
Progress is inevitable. Things change; they have to, but I think that things in the studio will remain as they are for a while. On the business side of things, things have changed and we've been forced to narrow the play lists a little bit because this world moves so quickly.
Everything is instant now. Want to know who's winning? Tap your phone and you can find out and even watch the ending to a game. With that in mind, I need to be able to keep my audience's attention. I see a bright future for radio because we're concentrating our impact and giving the listener what they want.
If you tune to 95.5 and you're within about 300 miles – give or take – you'll get our signal.  We also have a secondary HD Channel, so if you have an HD radio there's a whole different KLAQ there; it's very much like a SirusXM channel. With Q2, we decided to play nothing but classic deeper cuts; the stuff you don't hear all the time. We still have room for another HD channel, so we may try metal alternative on that one.
What's one of the more interesting events that have happened to you during your time as a personality?
I could tell you all kinds of stories from drunken debauchery, overdoses, and accidents, to bands having to literally hitchhike to town to get to the gig. Having to pick one is tough, but my favorite story is the Flyleaf story – they're the band that had to hitchhike in.
They're on their way to El Paso for Balloonfest 2007 and their bus broke down 7 hours from here. So their tour manager is on the phone with me and his boss was on the phone with my boss; we were grasping at straws.
An older gentleman at the truck stop the band was stranded at overheard the conversation and offered to give them all a ride. This guy drove everyone and their equipment up to the show and they ended up being only about 30 minutes late. Lacey (former lead vocalist) even brought the guy on stage, and he was just enjoying the whole experience. We took care of his hotel and filled up his rig before he left. It's definitely one of many moments I could never forget.
TEXT: CRYSTI COUTURE @CrystiCouture
PHOTO: HECTOR RIVEROLL JR. ©2012 www.riverollphotography.com