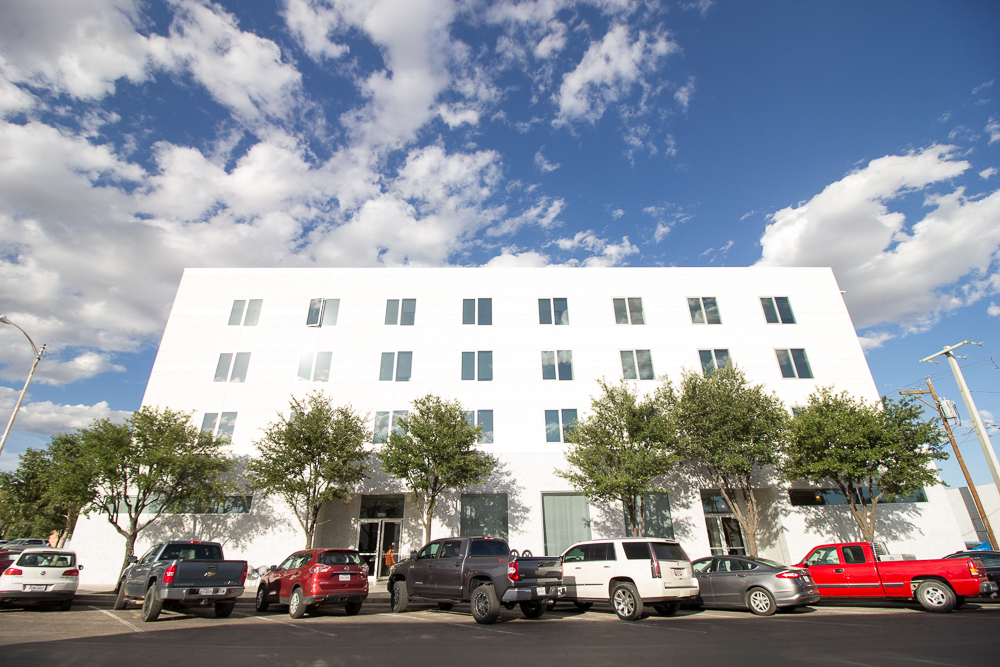 Text + photos: Alex Durán
Some of Tim Crowley's early memories of Marfa involve wide open spaces and big skies. Crowley, an attorney and businessman, grew up in Los Angeles but left the big city in the mid 90s for the small majestic west Texas town. Since his relocation, Marfa has experienced growth and change, yet it has kept it's majestic spirit; the same spirit that appealed to Crowley when he first set foot there back in the early 80s.
Not only has Tim experienced these changes, he's been part of the growth. His community involvement extends from being owner/director of the Crowley Theatre, former president of the Chinati Foundation and today current owner of Hotel Saint George—a local 4 story full service hotel located in downtown Marfa. We caught up and spoke with Tim about Marfa and his recent project during a live music event at the new Saint George Hall located next door to the hotel.
What's the appeal to Marfa? What brought you here?
It's small. In some ways it's very quiet, in others it's a very, very social place. I grew up in big cities, I travel to big cities and this is a nice juxtaposition with that.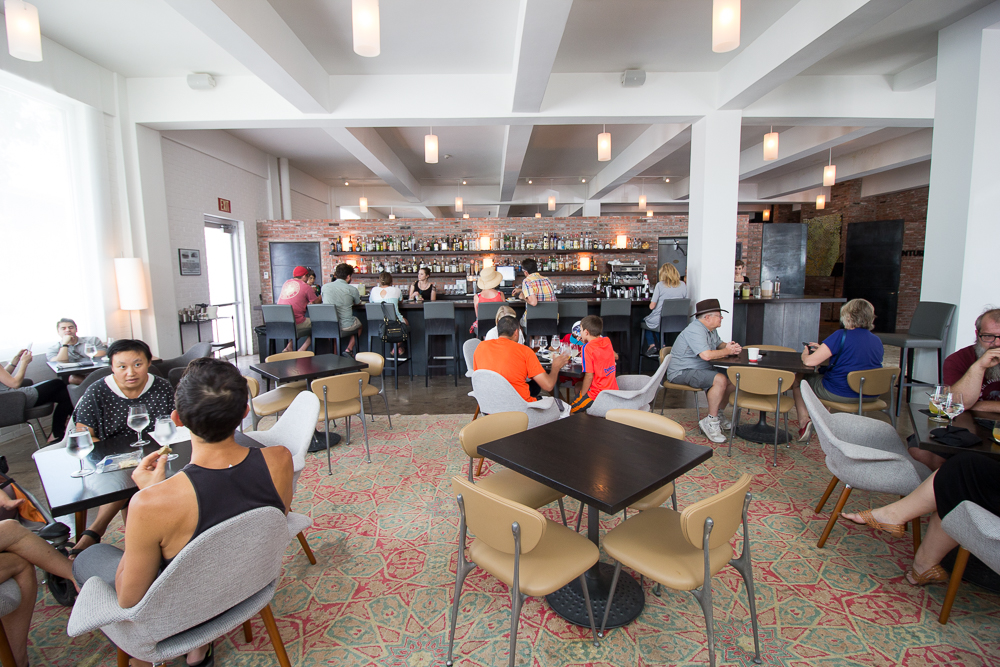 And you have the former military base.
Right, that's what I'm saying the arts. Chinati, Judd, there are so many of the visual artists. You start with the fact that Marfa is an important town, culturally. Then maybe the driving factor is that all of these towns have experienced growth. I'm talking about Alpine, Ft. Davis. Whatever one you want to talk about, and these you know, are non-oil and gas economies. But if you were to go back 20-30 years ago, the equivalent towns were Kerrville, Bernie, Wimberley. That's where people from the city went to get away, and if you went to those towns you know that they're very much like Conroe and Plano now. It's big box, franchises. There's nothing unique about being in Bernie or the Hill Country now. It's a little bit more terrain but it's very much like suburban big cities.
So I think that all of these areas are having increased visitor-ship because people are looking for a little bit more unique experience, a little bit more change. So you have those 2 factors. You've got great arts. You have people looking for… you know it's purely a demographic shift that has been supplemented by technology. You can publish your magazine from here just fine. You could work for a New York ad company from here. You couldn't do that 20 years ago. When we moved here there was one spot where there was a hill to the southwest of town where you could get a cell phone signal. That was it. So now, it's all changed. And things have compacted so you've got the demographic shift of people looking to come out a little farther west—you know the American story of living west, mixed with technology, mixed with an in the explosion of the arts. So there wasn't any doubt in my mind that there was a demand.
Marfa is an extremely small town but culturally it's maybe one of the most important small towns in the world. Marfa is extremely well known for its arts, movies. We're going to have our third film festival this year, 2 music festivals, it's own public radio station, one of the best writer residency programs in the country. There's a lot of good stuff happening here.
Tell me about Hotel Saint George. What did it used to be?
It was the original Hotel S G built in 1886. Where we are sitting right now is the train depot. That was the train depot hotel right on that lot. It was approximately the same number of rooms as we have now. That existed until the 1920s when they had a fire. The hotel was demolished and then that building was built in 1929. The style of construction was that, if you looked at the building across the street, or the other 2 story white buildings down Main street, they were all built as single story buildings, and then later they added the upper floors. Every single one of them. That was the style of construction then. That was the intent with that building in 1929 that they add additional floors. So they built it super, super stout. It's a great location. In the only spot in downtown Marfa that you could build anything. The building was strong enough and you ended up with this great lobby from 1929. Kind of industrial, poured-in-place concrete. And it was the site of Marfa's first hotel. You add all of that up together and how can you not do it there?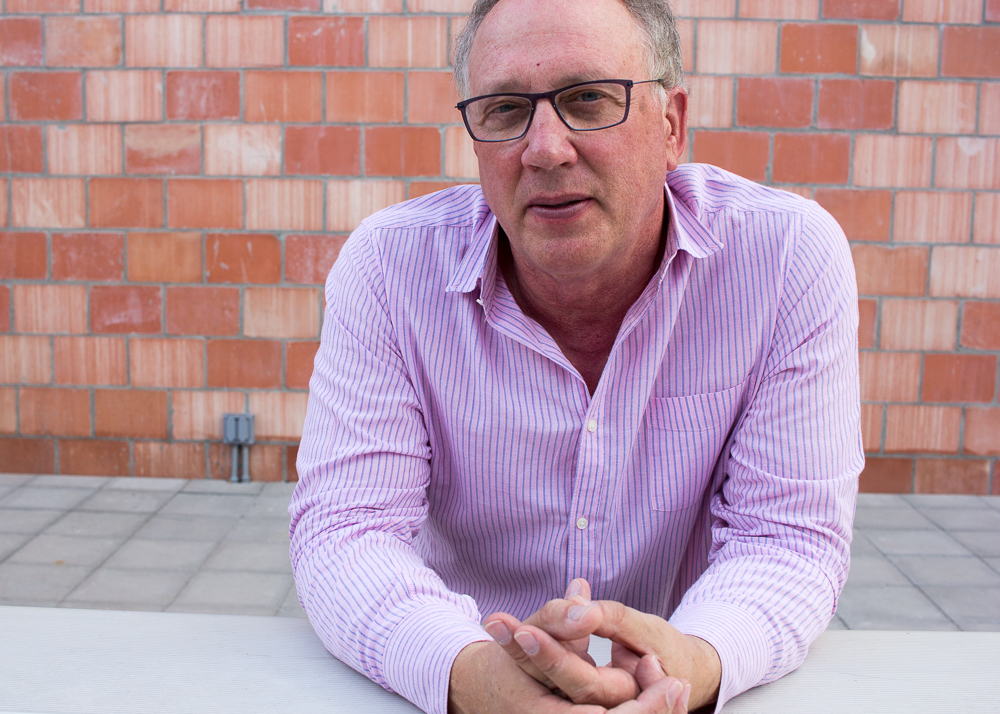 Saint George Hall now stands on the former location of the depot. What are your plans with the hall?
Well, this serves many purposes. First of all, it's parking for the hotel. This is the hotel's parking lot. Then it's the hotel's swimming pool. Then it's a multipurpose space; you do weddings, concerts, meetings. There wasn't sufficient square footage or space across the street to do that.
Tell me about the architecture of the building. Who designed it? Who built it?
A really close friend of mine Carlos Jimenez is the architect. Across the street it was built by Jordan Foster who you probably know from El Paso, and then I built this side of the street.
What kind of unique experience does Hotel Saint George offer?
 You know the things that I tell people is that it's local, in that it is…it looks like Marfa. It's the cast concrete type of construction that was built in the 20s and there's, you know you look at the metal doors, that was all made by Marfa people. The concrete floors are original to the 1929 the brick was reused from demo-ing (demolished) there. It doesn't look like Brooklyn, and it's certainly not a Hampton Inn, and that it's full service. I don't ever use the word luxury. Because we didn't try to be a luxury hotel but we did try to be full service. We have elevators, we have TVs, we have telephones. The restaurant opens on schedule. You know, basic things like that that you don't always get in west Texas.