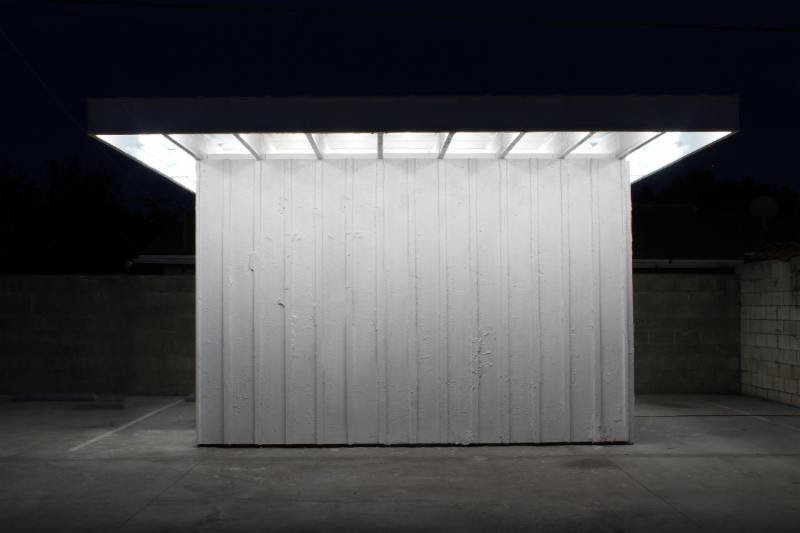 Ballroom Marfa presents Dengue Fever, the second of four exhibitions conceived for Arturo Bandini's year long installation in the courtyard, a perfect copy of their iconic Los Angeles gallery.
Dengue Fever, like Vapegoat Rising which preceded it, responds to the themes of transcendental landscape present in Ballroom's main exhibition, After Effect. As opposed to Vapegoat Rising (which understood this landscape as a percolation of fog and rock) Dengue Fever is imagined as a sort of Henri Rousseau delirium, a jungle of feeling, and a landscape turned inwards.
As a worm in an apple, or a tongue licking a psychoactive toad, or more to the point a wet willy, works by Kelly Akashi, Marten Elder, John Finneran, S Gernsbacher, Drew Heitzler, Sarah Manuwal, Calvin Marcus, and Roni Shneior surround and infuse the building (both inside and out), saturating it with meaning.

Arturo Bandini is a collaborative project/gallery by artists Michael Dopp and Isaac Resnikoff. The gallery occupies a small building designed by Joakim Dahlqvist that fluidly transposes interior and exterior space, mirroring Bandini's promiscuous curatorial sensibility.
Ballroom Marfa hosts an exact copy of the original Los Angeles Bandini building, manifesting a second gallery in the landscape of Far West Texas.
Dengue Fever
June 3 – August 21, 2016
Opening Reception
Friday, June 3, 2016
6-9pm in the Ballroom Marfa Courtyard
Drinks by Nick Fisher
Tacos by Marfa Burrito