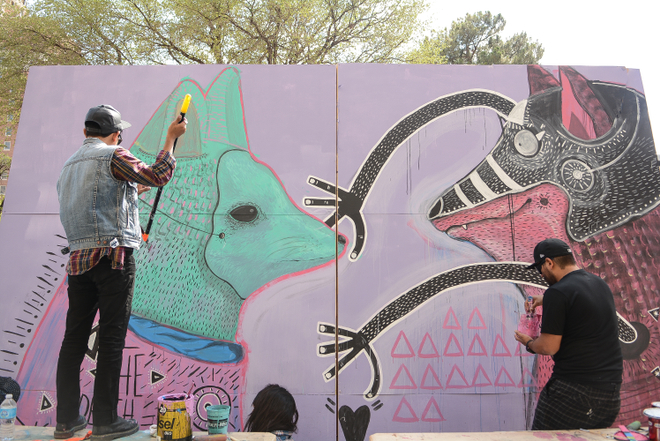 Neon Desert has become an El Paso tradition. It is a hotbed of music, art, and creativity. Along with this year's musical lineup, which includes heavy hitters such as Cypress Hill, DJ Kaskade and the Mexican alternative/psychedelic band Zoe, spectators will also be privy to some really progressive and innovative artists crafting their masterpieces.
"The way music and art go together, it's a great combination. When you're there to paint and create and also to listen to music, it's a total package," says the festival's art curator, Exist1981.
Along with veteran artists Los Dos, Zeque Penya, and Jellyfish Collective to name a few, this year's festival will feature some fresh new talent—Neophytes Ricardo Chavarria, Nanibah Chacon and Christopher Konecki have been added to the lineup. "After looking into her work I was definitely impressed and definitely psyched to work with her," Exist said of Chacon.
Also new to the festivities will be San Diego street artist Christopher Konecki. "He's very well rounded. He can do a lot of different styles, so it's always fun to see what kind of thing he's going to do," Exist says.
Another addition to this year's events will be a pop-up art gallery. This feature will allow revelers to see not only the piece the artists are working on during the festival, but also showcase their other creations. "It's [pop up gallery] an extension of the live gallery. It's supposed to be kind of a tangible extension where someone can take home a piece of art that one of the artists is doing." He goes on to say that the gallery is meant to give people the full scope of the artists' work, rather than just the piece that he/she is working on at the festival.
"Usually the piece of art is in progress. It's always changing and depending on when someone walks by it, they might not really get a full feel for what this artist does. This way they can really see what the artist can do when they have a little bit of time when they're working in their studio," he explains.
The live painting section of the festival will be in front of the main library downtown with the gallery located just to the side of it. Exist says the proximity of the gallery to where the artists will actually be working will make it more convenient for show-goers to actually check out the other pieces. He also mentioned plans are in the works to have a Neon Desert Art show in collaboration with the restaurants at TIME at Montecillo. "We're going to bring all the pieces from the previous years and this year and do a full art show, as well as bring a few pieces from each of the artists who have contributed in the past years. We're trying to do a really big show and raise money for charity, and also just showing all the work we've done with Neon Desert."
__________
EXIST1981
Exist1981 is the moniker of one prolific street artist who now resides in San Diego, CA, but returns to El Paso from time to time to work on large scale murals. Started as an underground street art Project in 2000, it has since manifested into fine art, graphic design and a boutique clothing campaign—a multimedia art massacre. Some of his work can be found taking up entire building walls in downtown, Union Plaza and the new Montecillo smart grown community.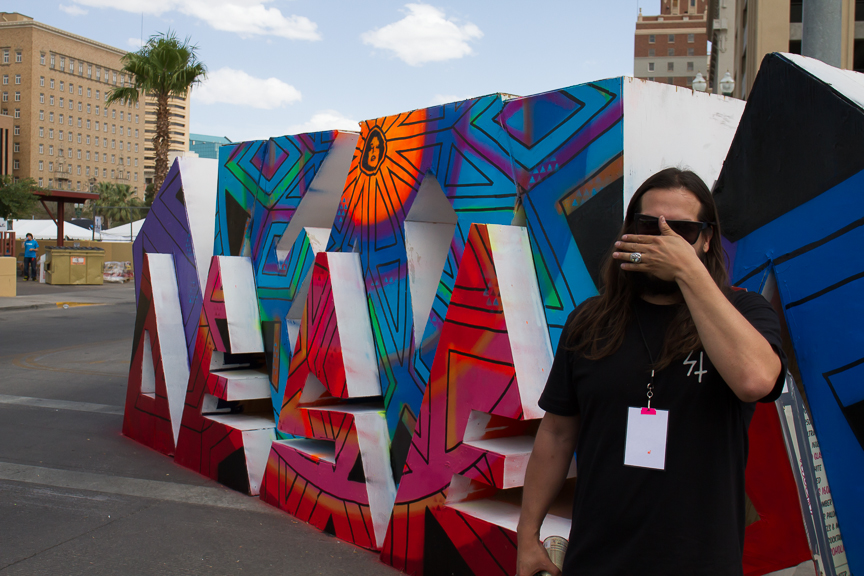 Los Dos
Los Dos is comprised of duo Ramon and Christian Cardenas. Ramon, who is a printmaker/photographer, and Christian who is a designer/illustrator/printmaker, mix and combine their individual styles. They use poster, often tiled patterns, along with illustrated characters whom the artists wish to form and present dialogue with the city and its people.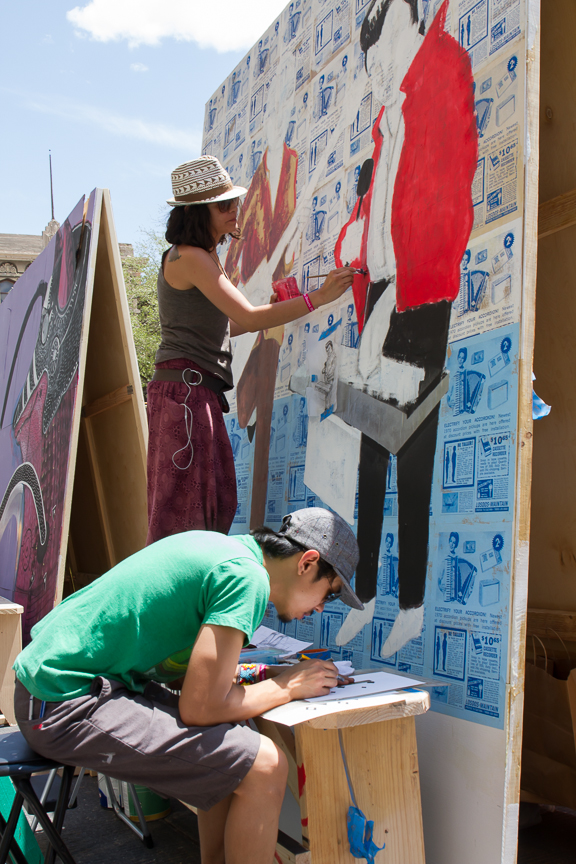 Zeke Pena
Born in Las Cruces, NM, raised in El Paso, TX, Zeke Pena is a freelance painter, designer and curator. His work has been exhibited in museums, galleries and non-traditional spaces along the U.S./Mexico border, Chicago, Los Angeles, and throughout the Southwest region. He makes community based, transmedia work exploring border identity and ritual. His work focuses on visual narrative using photo/videography, painting, woodworking, and installation.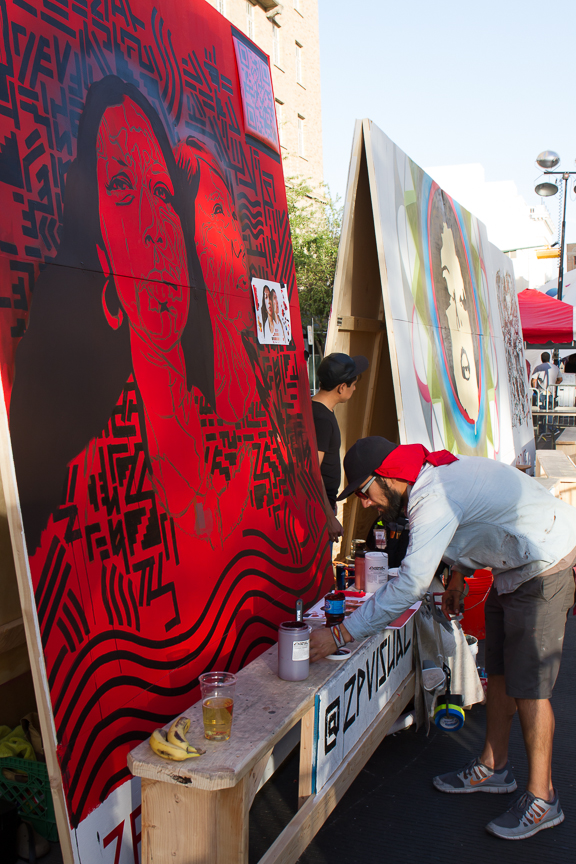 Ernesto Yerena
Ernesto Yerena grew up on the U.S./Mexico border community of El Centro, CA. Being influenced by the cultural and social elements of the border, Yerena chose art as an outlet to question everything he was confronted with. His artistic talent earned him a full-time position with OBEY Giant—an art campaign turned brand.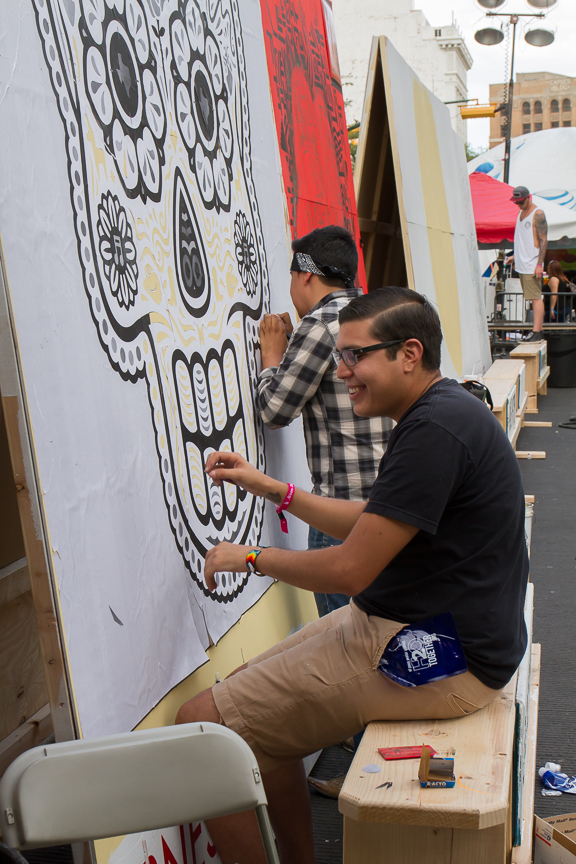 Jellyfish Colectivo
The Jellyfish Collective is an art collective from Ciudad Juarez, MX. Their artistic abilities range from graphic design, street art, murals, and screen printing. They often conduct workshops in their community for kids and adolescents.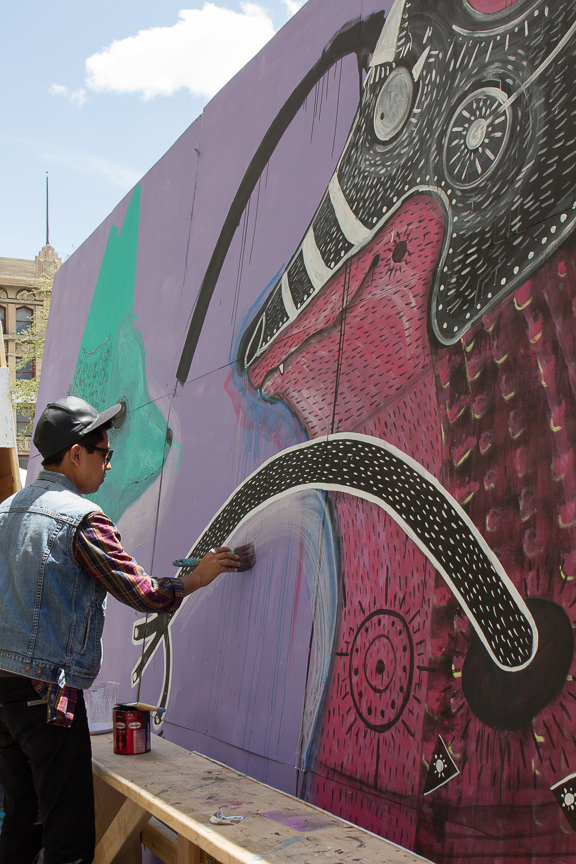 Text: Denise Nelson-Prieto