A DELICIOUS CONFECTION OF CHARM, SPARKLE AND TALENT BY THE SLEIGHLOAD
CIRQUE DREAMS HOLIDAZE LIGHTS UP THE PLAZA THEATRE ON DECEMBER 11, 2012
CIRQUE DREAMS HOLIDAZE will light up the 2012 holiday season when it transforms the stage in the Plaza Theatre into a wonderland of fantasy and disbelief on Tuesday, December 11, 2012 at 7:30 PM. Cirque Dreams, an American theatrical production company, brings its critically acclaimed entertainment brand to El Paso for one glorious holiday performance as part of the 2012-2013  El Paso Electric Presents Broadway in El Paso Season. Tickets go on sale this Friday, November 2 at 10am at ticketmaster.com, 1-800-745-300, all Ticketmaster Outlets and the Plaza Theatre Box Office.
Created and directed by Neil Goldberg, CIRQUE DREAMS HOLIDAZE is "so full of energy it could end our dependence on oil" according to the New York Daily News and "a delicious confection of charm, sparkle and talent by the sleigh load." The Rochester Democrat and Chronicle raves, "even the Grinch would be impressed with this Christmas wonderland." "Stuffed with so much holiday cheer and audacious acts, Scrooge would exit with a big ol' smile on his face," hails the Erie Times News about this "Broadway-worthy spectacle." "The perfect way to come in from the cold, forget the holiday stresses and find the magic of the season" proclaims  The Oakland Press. Don't miss the international sensation that "Dazzled…at The Kennedy Center" according to the Washington Post.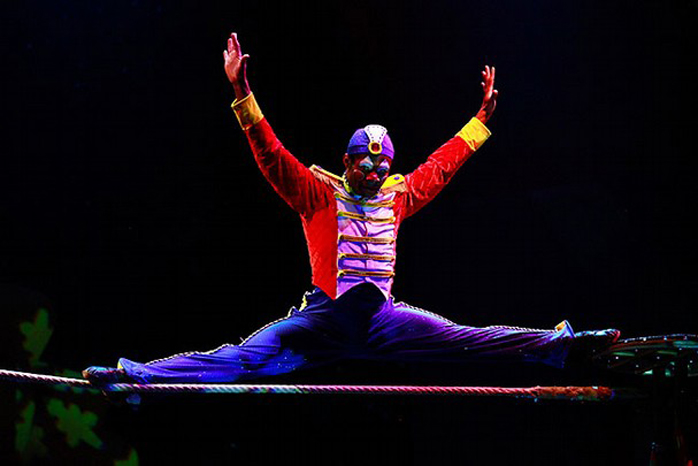 Renowned director Neil Goldberg, creator of the groundbreaking Broadway hit CIRQUE DREAMS JUNGLE FANTASY, re-imagines the holiday season with CIRQUE DREAMS HOLIDAZE. An international  cast of multi- talented and brilliantly costumed artists come to life and perform astonishing feats of disbelief. Experience gingerbread men flipping mid air, toy soldiers marching on thin wires, snowmen daringly balancing, icemen powerfully  sculpting, penguins spinning, puppets dancing and reindeer soaring high above a landscape of holiday wonderment. An original music score and some seasonal favorites accompany hundreds of astonishing costumes and holiday dreams in a setting of gigantic gifts, colossal candy canes and 30-foot towering soldiers creating a wonderland of spectacle.
Says Creator/Director Goldberg, "Cirque Dreams Holidaze continues the spirit of our brand first established in 1993…to present quality, accessible entertainment throughout the world integrating limitless imagination with multiple performance genres. We are proud to share our creations and bring joy to so many."
ABOUT NEIL GOLDBERG & CIRQUE DREAMS
Since 1993, the Cirque Dreams brand has entertained more than 50 million people worldwide under the artistic direction of Neil Goldberg. Cirque Dreams shows have appeared in theaters, casinos, theme parks, at sea and on Broadway. Cirque Dreams has garnered critical acclaim from "USA Today",  "The New York Times" and "Associated Press" to "CNN," "Today Show" and "Fox & Friends". The Cirque Dreams franchise includes a growing number of popular Cirque Dreams brand shows nationwide : "Cirque Dreams Jungle Fantasy," "Cirque Dreams & Dinner" onboard Norwegian Epic, "Cirque Dreams Illumination," "Cirque Dreams Rocks" and the recent multiple company tours of "Cirque Dreams Holidaze", including a first time ever engagement at The Kennedy Center. "Cirque Dreams Jungle Fantasy", the first and only show of its kind to appear on Broadway in 2008, featured 1980's pop icon Debbie Gibson in 2010, and will revolutionize live theatre in 2014 with the first ever "3D" live theatrical stage production. In 2012, "Cirque Dreams World Tour for US Armed Forces Entertainment" performed at military bases worldwide.