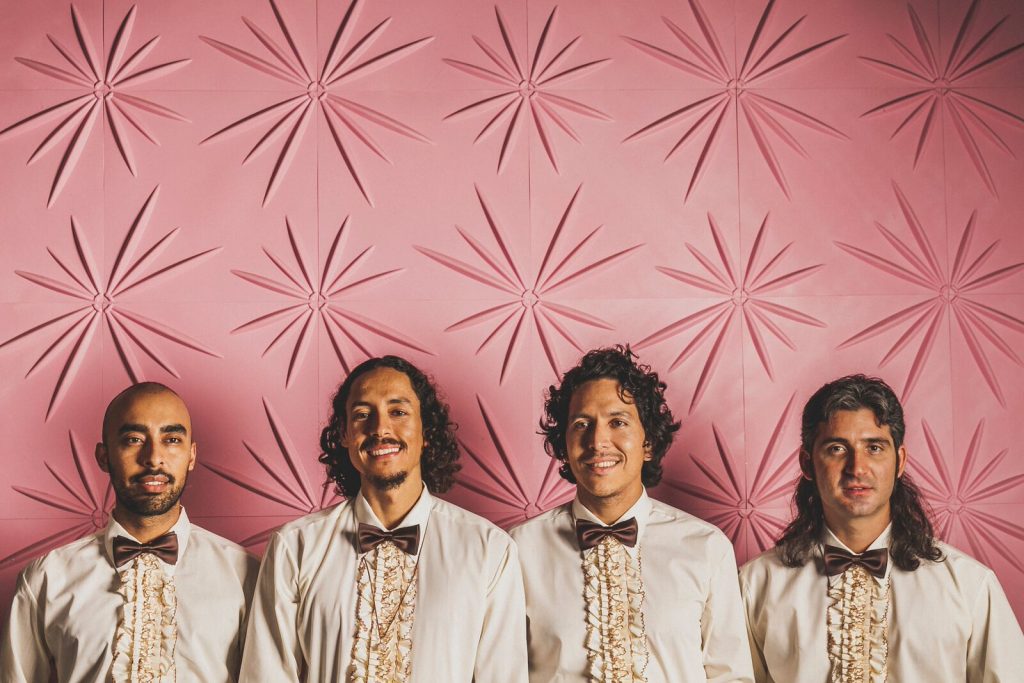 What do you get when you combine a pinch of cumbia, a dash of soul, a sprinkle of Brazilian Tropicalia and a splash of vintage Latin rock? If you throw in a bit of psychedelica, you just may get a glimpse of Chicano Batman. The L.A.- based foursome has been together for several years now, and their growth has been exponential. They are fresh off the Cochella stage and recently toured with musical heavyweight Jack White. The release of their second full length album has sky-rocketed them to world recognition.
Chicano Batman is comprised of Carlos Arevalo on guitar; Bardo Martinez, lead vocals, organ, guitar; Eduardo Arena, bass, vocals; and Gabriel Villa, drums and percussion. The band swoops into the Sun City this Friday, May 29th for a show at Tricky Falls. Vocalist Bardo Martinez took some time to talk to us.
How did Chicano Batman start?
Chicano Batman pretty much started in an apartment at UCLA. Essentially it started from a drawing of batman I did that looked like somebody Latino. Then it just kind of sparked this symbol I drew with bat ears and the UFW (United Farm Workers) eagle wings. So this happened around 2006. Then I met Eduardo (Bassist) and I told him about how I wanted to play soul music, like American soul, and express my love for oldies. I guess every Chicano in LA grows up with oldies. He also expressed his love for cumbia. And I was like, that sounds dope, let's put it together. I'm a lover of records, and when I'd dig through my dad's albums I'd always find these one's with a few balada. which sound like soul songs really. And then you have heavy, thick basslines and solid rhythms. But then you have your Ranchera on it and you have like, one cumbia. That was the concept we were going for. We were definitely trying to nail down that solid R & B rhythm with Gabriel (drummer), who I had met around that time as well. So we ended up making that first album as a trio. So it was just us three until 2010. I got Carlos (guitarist) on board. I hit him up and I had some new visions for music with more guitar parts. So he became our lead guitarist. So with Carlos we recorded a couple EP's and our last release in 2014, "Cycles of Existential Rhyme.'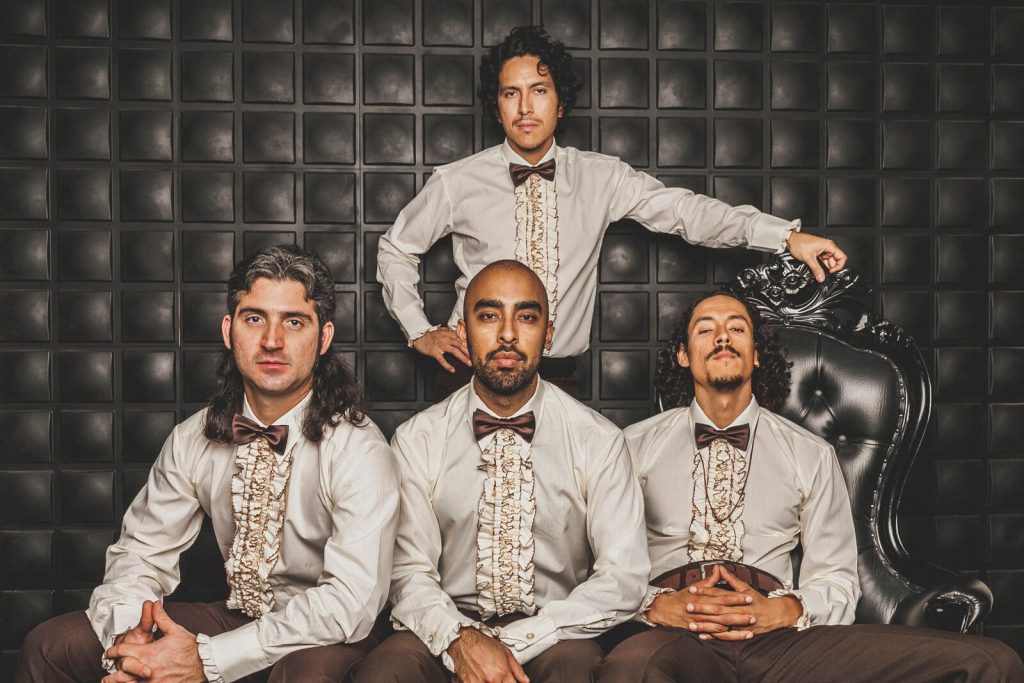 In many of your songs you guys inter mix a lot of rhythm and style changes. Can you talk a little about that?
We all come from different backgrounds, mostly Mexico and South America, and we really wanted to incorporate those backgrounds into our music. For me, I wanted to play really solid songs, but they didn't have a lot of variation within them. They were essentially pop songs. They had things that were very trippy and psychedelic, inspired from the Tropicalia movement in the 60's and 70's. Around that era a lot of music had that pop format, but then you would have rhythm changes and different things that would borrow from jazz and other styles that gave it a different dimension. When we first started playing, Eduardo and Gabriel wanted to play in these crazy time signatures. At first it threw me and it took me a while to understand what they were doing. But once I learned what they were doing, I pretty much got into it too. So I started composing my own stuff and I think musically speaking we've evolved together over the years.
What's up with the Tuxedo shirts you guys wear when you perform?
A lot of my dad's albums have the band on the cover all dressed up with a tie and matching outfits. I think the band's and their style really speaks to a whole generation of Latinos in the United States. So mainly the idea was to represent and to make it a visual effort. And also, it was just something that I'd never seen anybody do, except for a few Rock en espanol bands back in the day So with the tux's, its basically about representing visually.
What was it like playing Cochella?
I think people vibed with us. We always try our best to connect with each other and create a vibe onstage and put it out to everybody. I feel people really catch on to that, whether there's five people, or 30, or 5000. At Cochella I definitely felt the vibe from a lot of folks. We had a lot of fans there. We saw a lot of bat shirts. We had our people there, so that made us feel good. So when you have people sharing your energy while you're playing, it spreads the vibe. At Cochella we definitely had that and it was definitely a blessing.
Rolling Stone named you guys "Best Rock en Espanol" at Cochella. Do you feel like Chicano Batman has broken through to the masses?
I think we still have a long way to go in terms of that. But I think "Rock en Espanol" is not necessarily the best term for us. It's going to be a battle for any band with a name like ours to not be defined as Latino. I'll rep myself and rep my family's heritage till the day I die. It's just that we live in a world where everything is categorized and pigeon-holed. We're making music that I would say is pretty cutting-edge. I don't feel like you can say we're like other Latino bands. You almost can't categorize our music.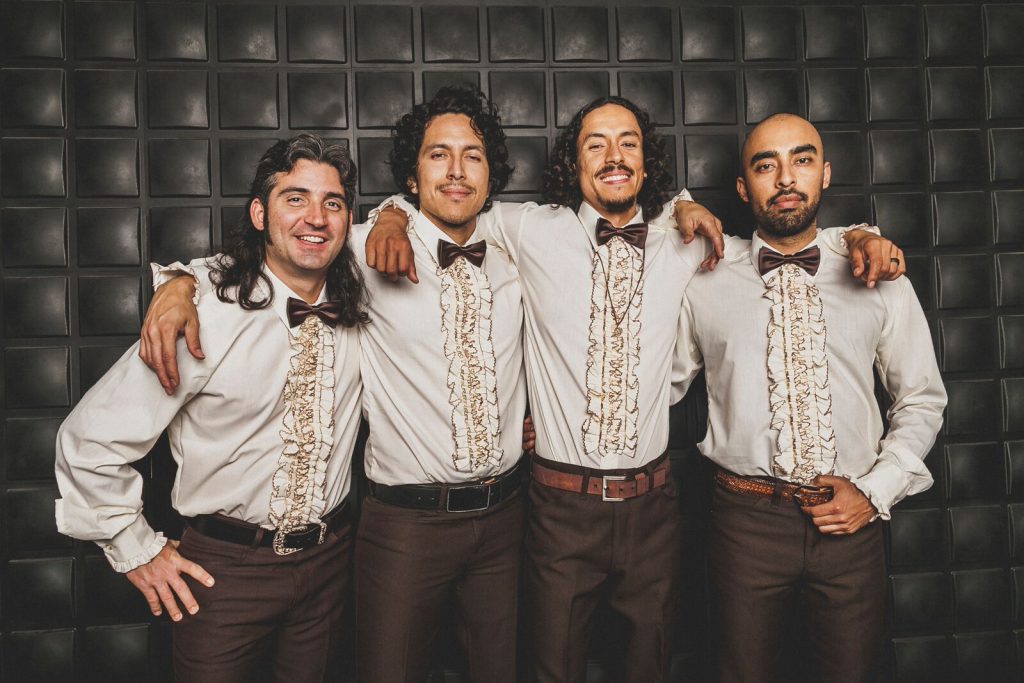 I know Ikey Owens (keyboardist, Jack White) approached you guys about the direction he thought your band should take. Due to his death you couldn't follow through with him, but do you plan on moving forward with his vision?
Yeah, we do. When he approached us he said, "You guys need to step up your production, make your music a little bit louder, do something to make it thump a little bit more." When I heard that I thought yeah, I feel that. I knew we had to do something to make our music a little bit more appealing to the masses. I definitely took that to heart.
In an interview in Billboard magazine, you're quoted as saying "Chicano Batman is a way of championing the underdog."
We're the underdogs, you know. That's just our position in society. I think even our symbol itself is our way of representing the working class people. And Batman was this superhero who fought for the people. We're fighting for these people because that's who we are and that's where we come from, and really that's who we respect–those people who are struggling to make ends meet for their children and their families. The world is full of struggle and we're on the bottom. And we have a long way to go. Everybody has a long way to go. And music for me is a way to become clean, spiritually speaking. It's a way to throw everything that I'm feeling out there to the universe. We want to help people finish the struggle with their souls intact. I think that's what soul music has always done. We're trying to provide a way for people to find hope and a way to connect.
Text: Denise Nelson-Prieto | Photos: Courtesy of Chicano Batman