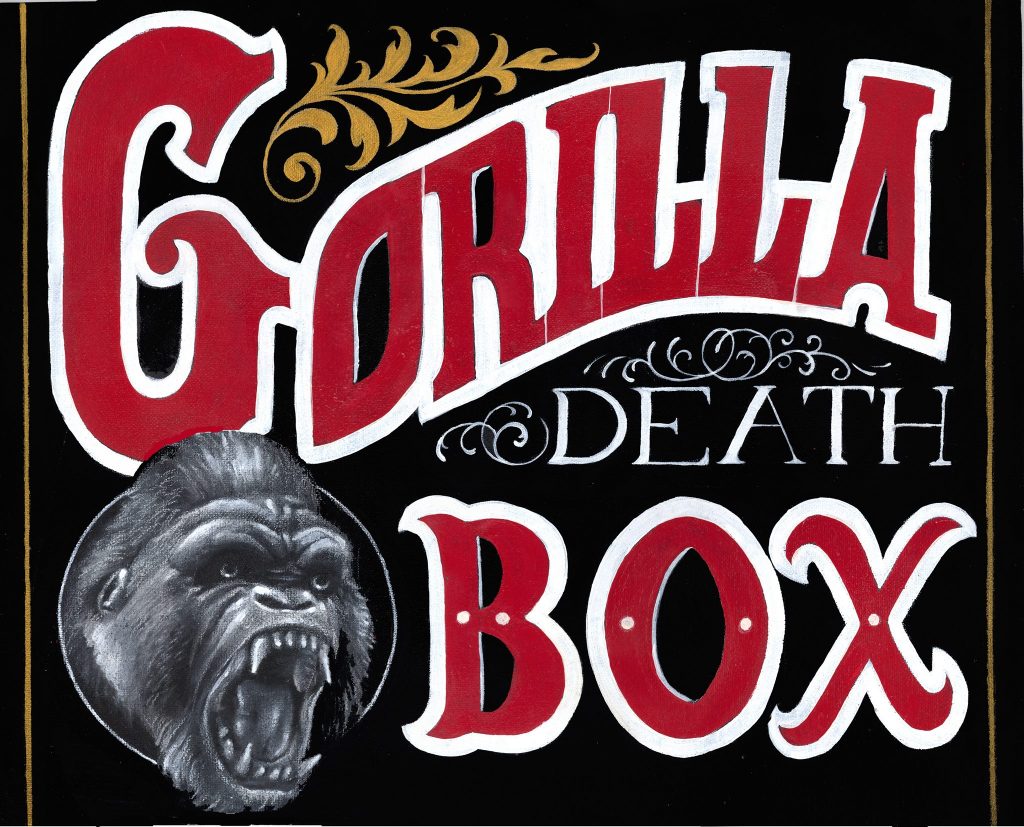 With the distortion set all the way to 11, Gorilla Deathbox is a rocking new band in El Paso with dark tones and heavy grooves. Fusion interviewed the band through email where they answered collectively.
Where did you guys get the name Gorilla Deathbox? What other names did you consider?
The name Gorilla Deathbox is an off-handed reference to an amplifier company (Gorilla Amps) that were prominent in the 80s and early 90s that many practicing musicians used to develop their style and hone their skills. When occasionally asked by inquiring musicians what gear the group uses, guitarist/vocalist Cesar Soto would jokingly say "Gorilla Amps new line of equipment, the 'Gorilla Deathbox' model"—which was a hoax. Once the group began writing material, the name Gorilla Deathbox was commonly attached to the group as a working title, which ended up sticking as a permanent name.
How long have you been together?
GDB has officially been together and writing/recording since February of 2014, but the idea came about to form in early 2013 and was originally planned to include local heavy-hitting drummer Erik Salas, who unfortunately and untimely passed in 2013.
Who is in the band?
The group originally formed as a 5 piece act and was restructured into a four piece in December of 2014 consisting of Brian Ramos on bass, Jay Arriaga on drums, Cesar Soto guitars/vocals and Mat Lynch as second guitarist.
How would you describe your sound to someone who hasn't heard it?
GDB is comprised of four musicians from various musical backgrounds that meld driving rock elements with heavy groove, blues and atmosphere into an experimental array of large beats and catchy melodies.
What do the people say you sound like at your live shows?
People have made note to say how much more cohesive and durable the group sounds now that it has transformed from a 5 to 4 piece after parting ways with its previous vocalist, who was simply described as an odd-fit paired with the rest of the members.
What do you think of the current music scene in El Paso?
El Paso has a long-standing history with strong musicianship of all backgrounds and tastes. The city itself seems to have diverse tastes in music and support for the bands and musicians themselves, comes in many positive forms: from the attendance at shows to purchase of band merchandise and music.
What are local bands that you currently like?
The Recovery Mission, Triumph Over Shipwreck, Johobo Witness, Hank of the Destruction Moose, Voyeur and many other bands that push the limits independently to keep themselves in the public eye both locally and on the road.
Is there missing pieces in the local music scene? What could improve it?
At the present time, support seems to be pretty strong on many levels. The radio station KLAQ spotlights many local acts on their Q Connected piece, which is a great outlet for up and coming bands and musicians; many of the local promoters include local groups as their main support for national touring acts. I think in terms of improvements, bands are very supportive of each other and that always has room to grow.
How long have you been playing music and how does it feel being in  Gorilla Deathbox Brian?
I been playing since 5th and 6th grade—stage band. I started on the coronet, moved on to guitar but wasn't very good. Started playing bass in high school, been there ever since. I played in the very beginning of Fungi Mungle, Nightshade Family in the Attic days (90s venue in the 90s on Texas St), then Thieves of Always; had a brief stint in Mexicans at Night
Have you guys done some recording?
Yes, GDB has released an EP effort of 3 songs including "Of My Heart" and "Black Gold" that were tracked at guitarist Mat Lynch's (Heaven Point studio), mixed by Sonic Ranch engineer Charles Godfrey and mastered by Mike Major.
Where can people catch a show?
Next shows are scheduled to take place in February and March and we are looking into Lowbrow Palace, Happy Endings and Bourbon & Brews VWL as venues.
Where can people check you out online?
Anything else you want to add?
GDB is planning to release another set of tracks as an EP in April or May, with likely 3 songs which are scheduled to be mixed and mastered by Mike Major (At the Drive-In, Coheed & Cambria) and be out performing on occasion live throughout the southwest.