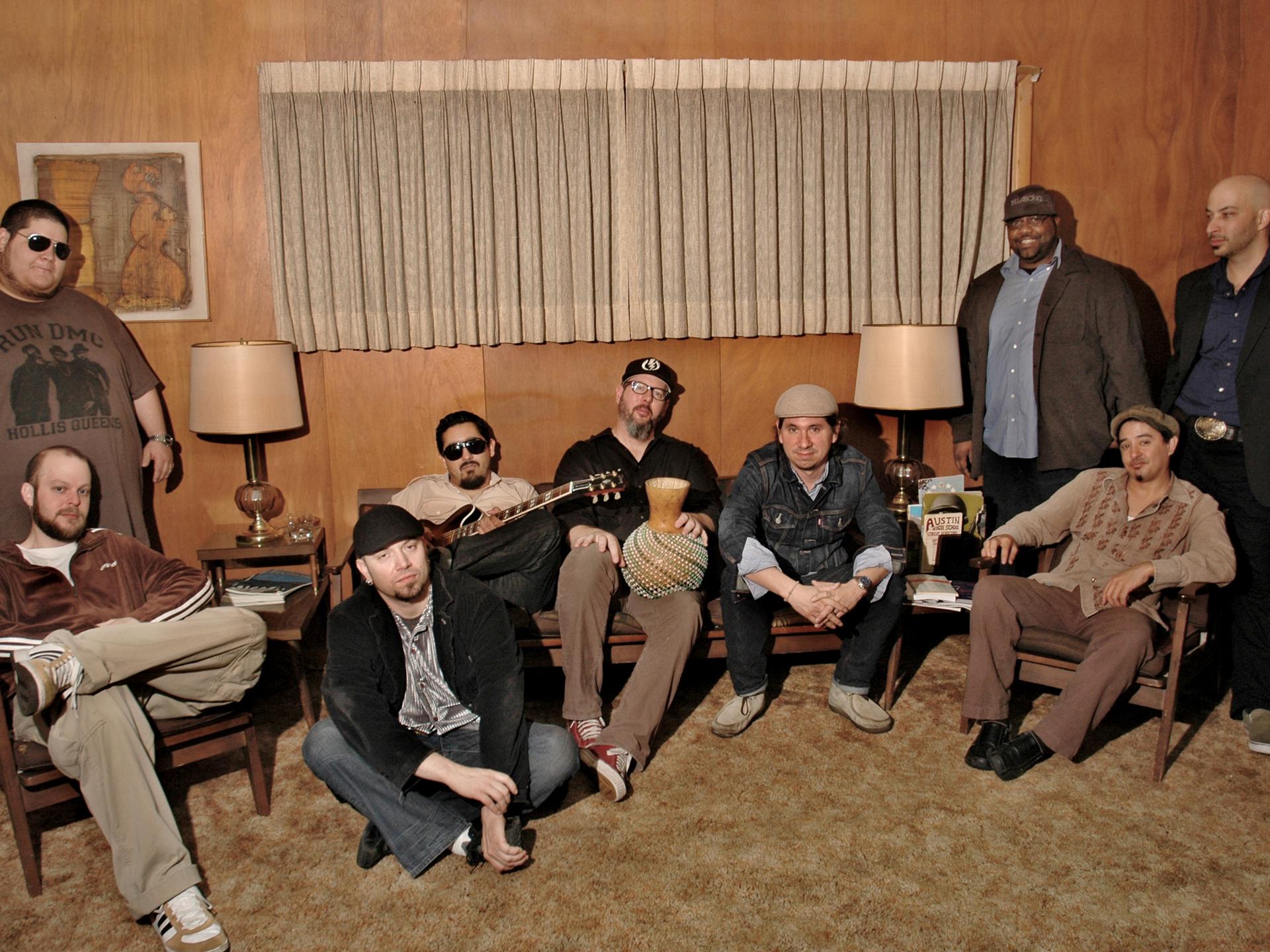 Text: Rafael A. Revilla Romero
Brownout is a Mexican-American band right out of Austin, Texas, and a perfect portrayal of all the idiosyncrasies that particular origin conveys. The cultural and musical diversity of their members is as varied as the mishmash of cultures that inhabit North America. Brownout's influences are a mixture of second or third generation Mexican-American traditions. On one side are the Mexican traditions such as El Día de la Independencia, or the now famous Cinco de Mayo, tamales, tacos, ranchera and cumbia music; that love for the family. On the other side are the now Americanized customs, such as tacos with cheddar cheese, and the culture of the American dream: Blues, Jazz, Rock music, and the generational influence of hip-hop. This fusion results in a band who plays exactly what runs through their blood; that homage to everything their ancestors ever wanted and had to leave behind, that homage to their Latin roots.
How was Brownout born? I know that some of Brownout members are also in Grupo Fantasma (which won at the 53rd Grammy Awards in the Best Latin, Rock, Alternative or Urban Album category) what is the main difference between both bands and why make references to Grupo Fantasma on Brownout's shows?
Grupo Fantasma was born in 2000 out of two different bands and was originally a collective of musicians who would get together and play house parties and the occasional gig. The music we would get together and play was probably closer to what Brownout sounds like now, more on the rock and funk side of things. It wasn't until 2000 that we came up with the Grupo Fantasma "concept" and focused more on Latin. Then Grupo Fantasma took off and next thing we knew it was a full time band. So when we came up with Brownout a couple of years later, it was really a return to the origins and was originally something for fun, not get burnt out on GF music.
How did it feel to win a Grammy?
It was a great feeling, but honestly I wasn't even at the Grammys, most of us were on a bus home as they only gave us 4 tickets and only 3 members went. So it was an amazing feeling but a little different from what people might expect.
Your first album is titled Homenaje, who does Brownout pay homage to?
The title Homenaje was not a specific reference to anyone in particular, just everyone who influenced us from musicians to our families to Buchanan's Scotch Whiskey…Basically everything on the altar of the cover of the album!
Your first album, Homenaje, was quite popular in both record and electronic media. You had a broad exposure and were also referred to as a revelation band. Homenaje was followed by Aguilas and Cobras which was also quite well received. Now, with Oozy, how do you feel the public reaction has been towards your newest album?
The reaction seems to be good but the growth has been slow. Homenaje seemed to jump out the gate while the last two have seemed to accelerate the band a bit, but have maybe not had the same impact the first record had so far. Timing might just be different now.
Oozy is starting to play broadly in radio and social media, but you also just changed record labels. Now you're with Nat Geo Music which is affiliated with the famous magazine and TV channel National Geographic. How do you feel with this new record label, though a recent change, which has world-wide support?
National Geographic was a label we had worked with before as Grupo Fantasma and has been great to us. Nowadays, it's hard to make it as a label and hard to find a good label home as the industry is struggling and no one has the funding anymore. So a label like Nat Geo which is part of the National Geographic umbrella is great as they have a little more stability being under that umbrella, plus they're as musically open minded and worldly as the magazine.
You guys are originally from Austin, TX, a city with an extensive musical culture. How are the dynamics there?
It's a great city for musicians to live, work, and in many of our cases, to raise families. So it's been amazing, not perfect, but no city really is. While it's a much cooler and more affordable city with less pretense than somewhere like LA or NY the truth is certain opportunities are lacking that some of the major cities have, like bigger and better paying "work" for musicians such as things in the film industry, etc.
Having other cities with a high Latin population at your reach, such as L.A., cities where Brownout could have a higher exposure and demand, why choose Austin?
Most of us are Texas boys so it's the best city in Texas for us.
I recently enjoyed your performance at Padre's in Marfa, TX. The place was packed and you had even the most skeptical of gringos dancing to your Latin-Funk, and you still have dates to play throughout the country. To you, how important is that interaction with your audience when playing live?
The original idea behind both Grupo Fantasma and Brownout was that it would be music for everyone and would transcend language and music barriers. Hopefully everyone can get into it. There's no point in excluding anyone by either barrier, even if we sing in Spanish we converse amongst each other in English, so there you go.
You guys will be at the Bonnaroo Music & Arts Festival as part of Grupo Fantasma joining Wu-Tang Clan's GZA on stage. How did this involvement come about?
Nat Geo our label mentioned GZA needed a band for SXSW, so we recorded a few demos of us playing his beats and sent them to him and he loved them so one and a half rehearsals later we were headlining a SXSW showcase. The hype was huge and together we managed to live up to it, so now whenever logistically possible we're looking to work together.
For some reason I feel that Bonnaroo is a festival more suited to your style than Coachella for example. We recently had the 2012 Neon Desert Festival in El Paso, TX and I would've loved to see you play there, what is your take on these festivals?
We love festivals, most of the time they're the best place to see music across many genres and styles in one place. I have never been to Neon Desert but I've always wanted to. I would love to spend more time in El Paso to be honest.
One of your songs recently became iTunes Latino Song of the Week. In a world where digital music is the future, how important is this?
It's hard to say how important that kind of stuff is, but I guess it never hurts. It throws you out into the shark pool of the same people who buy Justin Bieber or whatever and are scouring iTunes for free songs or "songs of the week." It can be a little brutal as the music sometimes goes over people's heads and they'll let you know they hated it, where our fans have always been more open minded, but I guess that's all a part of it: the music should be for everyone really, and I've always thought if no one dislikes you there aren't enough people listening.
Although it is extremely important to have a digital version of your music, your album Oozy is very well edited, including the art, which, though simple it is exceptionally well made, plus there's a 45 EP with two songs which sounds quite all right. How does Brownout handle this transition from non-digital to digital?
It's part of the game now, so whatever is fine, physical or digital. I wish I could say I only bought vinyl but that's hardly the case. I listen to as many Mp3s as the next person. Vinyl sounds better of course but the reality of the fact is music is music.
What's in the near future for Brownout?
We've begun a new album with about 4 new songs already recorded and are hoping to have it out next summer or so, along with more touring than we've ever done this coming year.
Thank you for your time Adrian.
Thanks to you Rafael.
 Article published on november 2012.