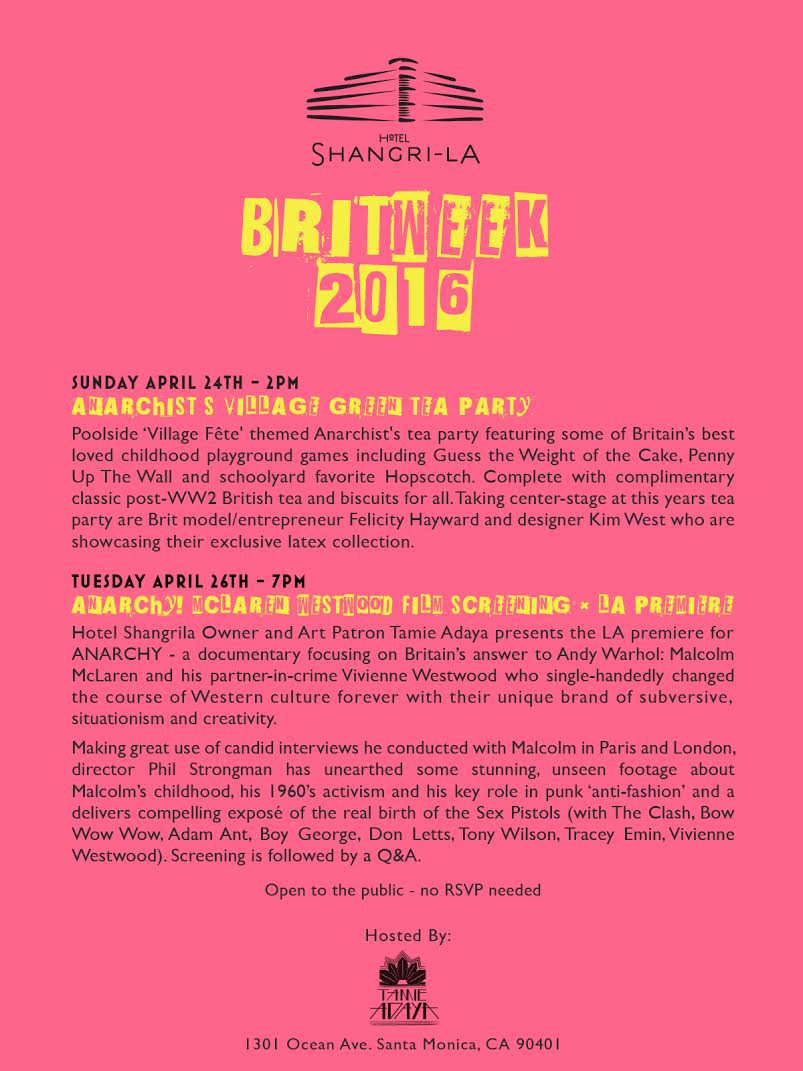 Tamie Adaya, renowned art patron and owner of The Shangri-La, Hollywood's timeless iconic Art Deco hotel, is hosting a trilogy of star-studded cultural delights celebrating the best of British creativity this month.
The American hotelier and entrepreneur is joining forces again with Nigel Lythgoe OBE and former British Consulate Bob Peirce, co-founders of BritWeek. The annual event, now in its tenth year, is a celebration of the creative fusion between the UK and the USA, focusing on film, music, arts and fashion.
With a rich history dating back three-quarters of a century, and member of Small Luxury Hotels of the World, the luxury boutique oceanfront Shangri-La in Santa Mónica has been the ultimate clandestine retreat for celebrities, Presidents, Royalty and the fashion glitterati. In the 1940's it attracted actors from the Golden Age of glamour such as Mae West and Jane Wyman, the future wife of President Ronald Reagan, to its beauty and tranquility. The luxurious hotel, set overlooking the Pacific Ocean, was also where a close confidant of President Franklin D. Roosevelt's helped conceive the idea of today's modern Navy Seal program just prior to U.S. involvement in World War II. Offering privacy, discretion, alongside glamour and sophistication in a timeless retreat with a modern twist, it has continued its celebrity appeal throughout the ages entertaining A-listers such as Madonna, Tom Cruise, Diane Keaton to Bill Clinton and the Dalai Lama.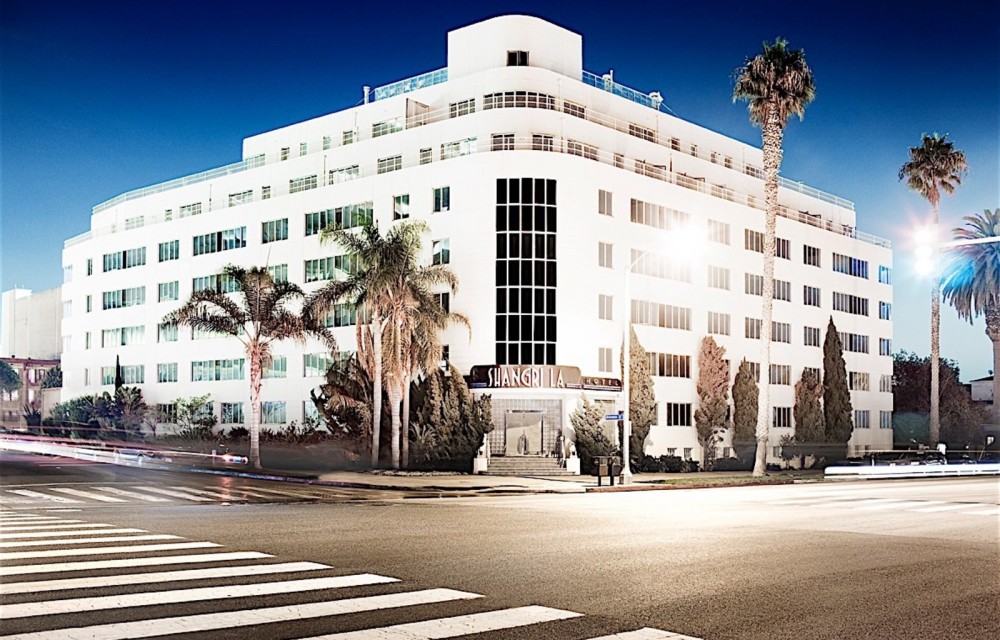 But this month, Tamie Adaya will be beating the drum for the Brits in Hollywood. She'll be hosting a series of events showcasing the crème de la crème of Britain's talent including acclaimed fashion designer, Julien Macdonald, Vogue model and entrepreneur Felicity Hayward, designer Kim West and film director, Phil Strongman.
"I'm delighted to be joining forces again with Nigel Lythgoe and Bob Peirce," says Tamie Adaya. "Through the creation of BritWeek, Nigel Lythgoe and Bob Peirce have strengthened and consolidated UK-USA cultural and business relations. Long may it continue." Tamie Adaya, who considers London her "spiritual home," and draws from British style, adds: "The Shangri-La and BritWeek is the perfect fit. Britain's cultural dynamism and sense of design is, for me, unparalleled, and in terms of sensibility, the Hotel Shangri-La is the UK's most westerly colony."
Britweek 2016 events:
* British model/entrepreneur Felicity Hayward and designer Kim West will showcase their exclusive latex collection with an afternoon 'Village Fete' themed tea party complete with English tea, biscuits and Britain's best childhood games including Guess the Weight of the Cake, Penny Up The Wall and Hopscotch on April 24th at 2pm.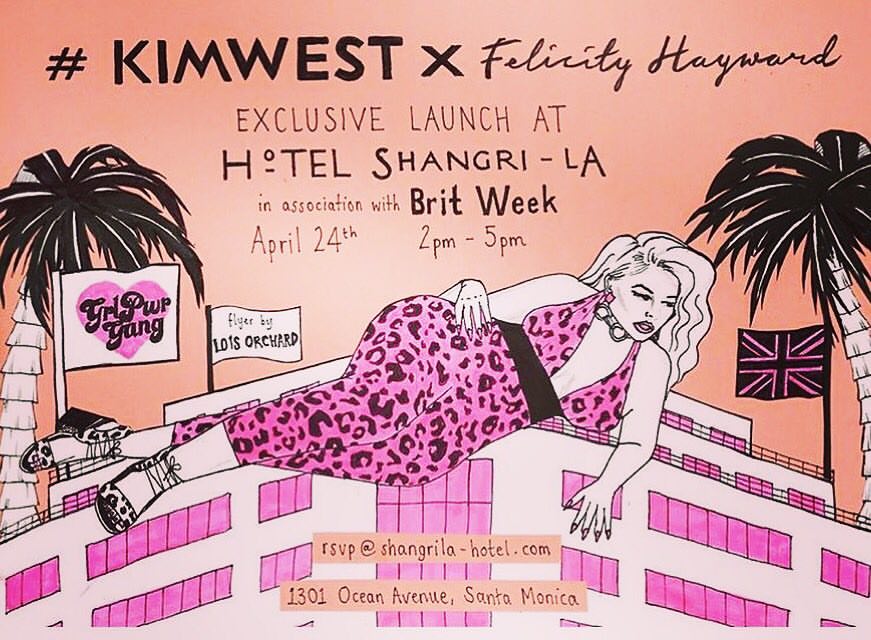 * L.A. film premiere of ANARCHY! — a documentary, directed by Phil Strongman, focusing on Britain's answer to Andy Warhol: Malcolm McLaren and Vivienne Westwood, who singlehandedly changed the course of Western culture forever with their unique brand of subversive situationism and creativity. Phil Strongman has unearthed unseen footage about McLaren's childhood, his 1960's activism, his key role in punk 'anti-fashion' and compelling expose of the real birth of The Sex Pistols (with The Clash, Bow Wow Wow, Adam Ant, Boy George, Don Letts, Tony Wilson, Tracey Emin and Vivienne Westwood). Screening on April 26th at 7pm is followed by a Q&A.
BritWeek is a non-profit organization, started in Los Angeles in 2007 by Nigel Lythgoe and then Consul General Bob Peirce, to highlight the creation fusion between the United Kingdom and the USA.
Tamie Adaya is CEO, President and Creative Director of Hotel Shangri-La at The Ocean, a member of Small Luxury Hotels of the World. Overlooking the Pacific since 1939, the hotel is a striking beacon of Art Deco Elegance, a chronicle of the golden era of Hollywood, and a quintessential nexus of culture. It boasts 71 guest rooms and suites, a lush courtyard with pool and cabanas, gourmet restaurant and Santa Monica's only open-air rooftop bar and lounge. Tamie Adaya oversaw a $30 million renovation in 2008. Her ethos centred on the hotel's unique place as a space where intellectual, literary and edgy artistic subcultures meet in the lineage of the Bloomsbury Set, Andy Warhol's Factory whilst following the tradition of the famous French salons of the 17th and 18th centuries. The Santa Monica Conservancy awarded Tamie Adaya its preservation award for an exemplary restoration of an historical property which kept the architectural integrity of the hotel intact whilst enhancing it and bringing in modern amenities. She was honoured for her leadership, creativity and business achievements at The Los Angeles Business Journal 2015 Women Making a Difference Symposium and Awards. Tamie also owns record label, Crown Jewels.
Photo: Nicholas Alan Cope