It's time for Big Bend Brewing Co.'s annual Valentine's in Valentine celebration. This is the 6th year the Alpine brewery throws a west Texas party in the small town of Valentine (population 200) on February 14, no matter what day of the week it falls.
Valentine doesn't have a gas station, a grocery store or an ATM machine, but Big Bend Brewing always brings the love with this annual event. "It just embodies so many of the things that are wonderful about west Texas and living in west Texas, and celebrating the land and the people and the community," said Mahala Guevara, vice president of operations. "Part of the reason we're so committed to throwing this crazy party is that it's a spiritual homecoming for all of us."
With this year's party on a Wednesday, Big Bend Brewing is declaring Wednesday night as "Local's Night"—featuring a lineup of local acts, including Beebe & Primo of Marfa, The Doodlin' Hogwallops of Alpine and Doug Moreland band of Fort Davis. The plan to repeat this theme every time Valentine's Day falls on a Wednesday.
"We have so many great bands that either live in the Big Bend area or from the Big Bend area who don't always get a chance to play on the Valentine's Day stage," said Guevara. "We think the west Texas musicians can compete with anyone." These 3 acts aren't exactly strangers to the Valentine stage though; they've played the event one year or another, opening for the headliners such as Gary P. Nunn, Joe Ely or Little Joe y La Familia.
Beebe and Primo play corridos, boleros, rancheras y mas, as The Doodlin' Hogwallops bring the honky-tonk. Moreland is currently located in Austin, but has roots in Fort Davis as he was born and raised in the Davis Mountains. The fiddler and his band will end the night with western swing.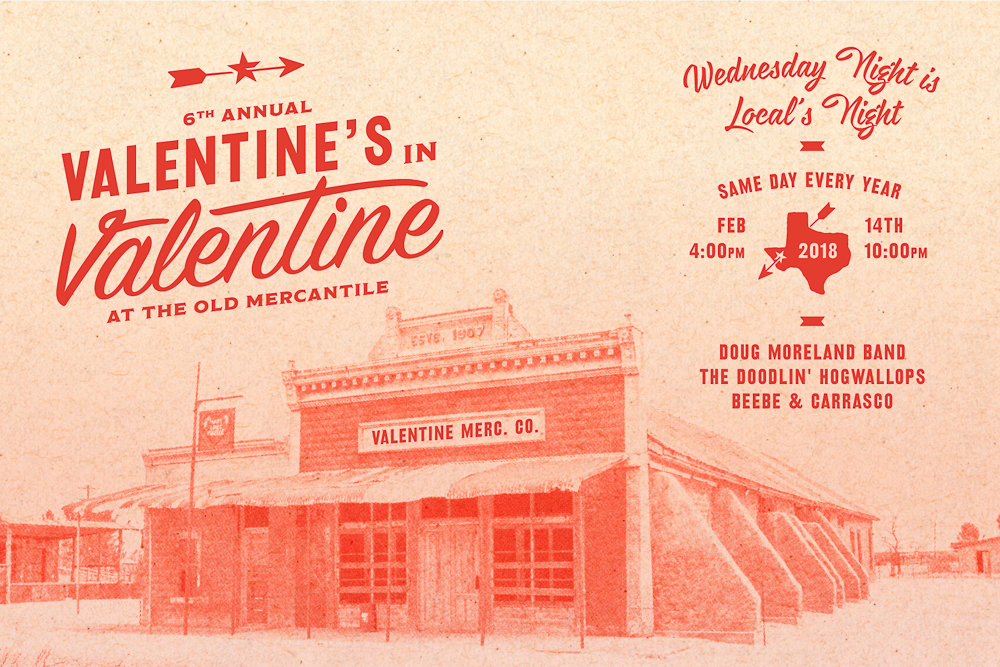 Along with the classic Big Bend Brewing beers served on site, the brewery will also serve a special Barelywine called Old Love, named after a west Texas treasure. The honoree won't be revealed until Valentine's Day, but Guevara shared that only 214 bottles of this limited drink will only be available at the event.
There will be Valentine's in Valentine merchandise on sale and the Hello Trouble Hall—a traveling honky-tonk venue/bar/stage/lounge—will be onsite. Austinite Chris Marsh created this 20-foot portable space that has set up shop (literally) at a few of the Big Bend Brewing traveling events. "This will be the west Texas debut of Hello Trouble Hall on Valentine's Day," said Guevara.
People can also send love letters from Valentine that will be mailed by the brewing with the special "love station" cancellation stamp. Every year, Valentine high school and junior high students design the cancellation stamp with Valentine City Council selecting the winner. As many as 30,000 letters are mailed to the post office to be stamped each year.
Visitors from all over the state have traveled to the Old Mercantile Building for Valentine's in Valentine, but it has also become a chance for former west Texas residents to come back to see old friends.
"We take a lot of pride in creating an environment that has been describe to us as walking into a giant west Texas reunion," said Guevara. "That's the spirit that we want."
Valentine's in Valentine will be from 4 p.m. To 6 p.m. On Wednesday, February 14 at the old Mercantile Building in Valentine, Texas. Tickets are currently on sale at bbbcvdivt2018.eventbrite.com.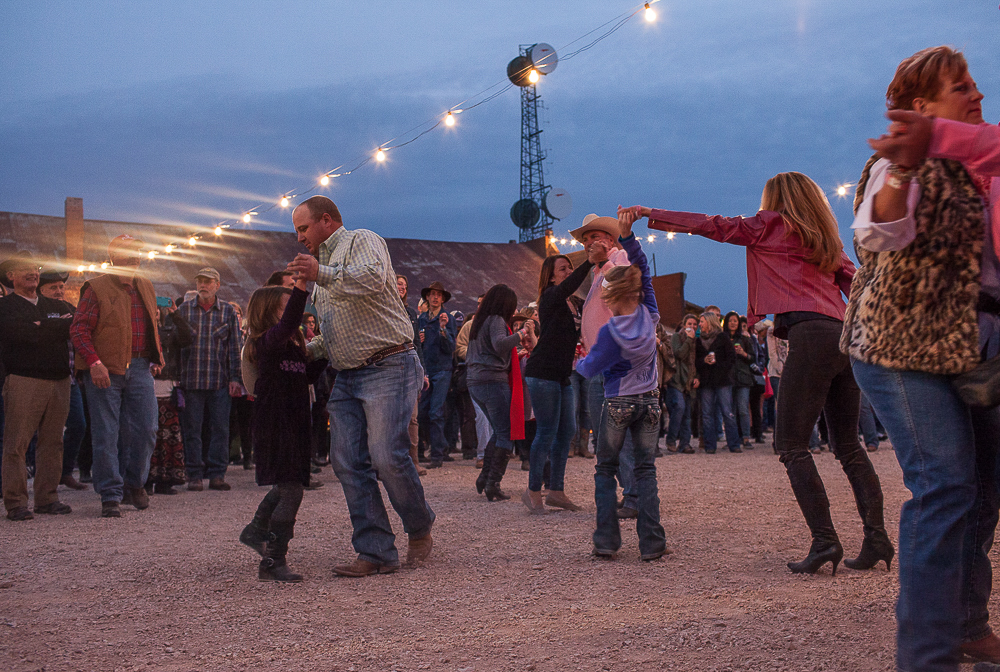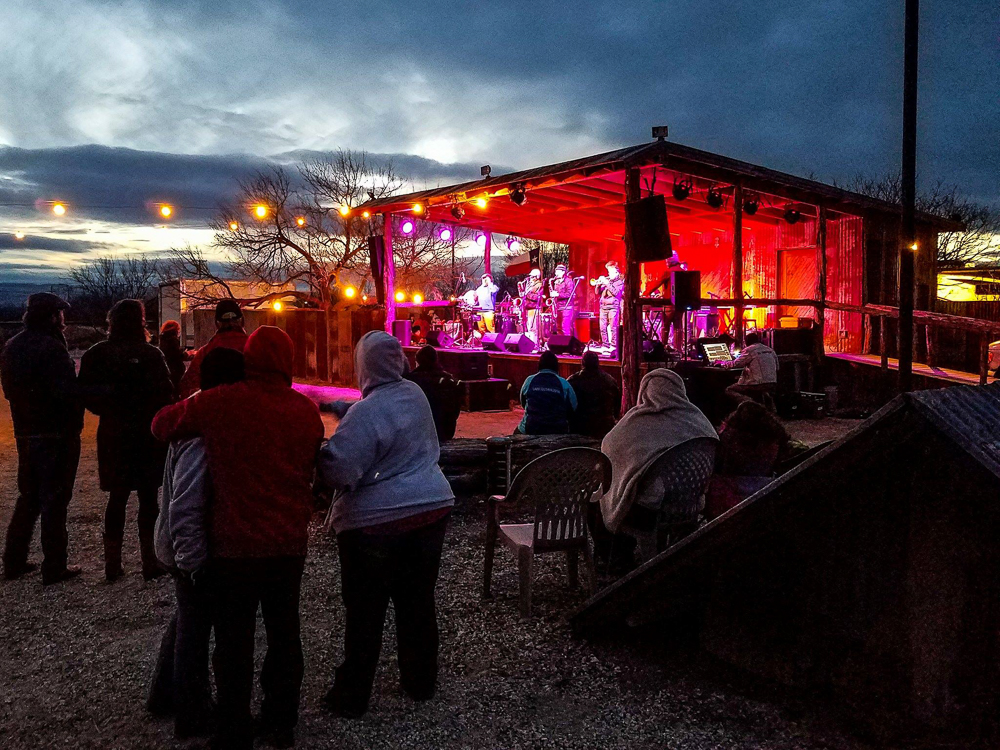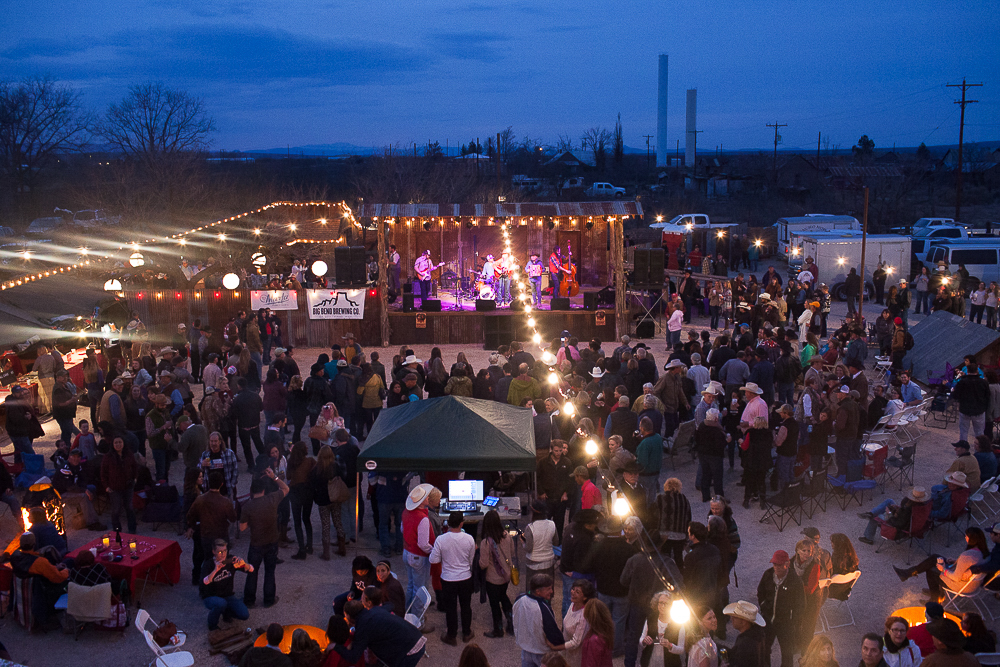 Words: @sarahmvasquez | Photos: Courtesy of @bigbendbrewing