You're a little day drunk. Not a lot, but enough to see east Austin through that whimsical filter of SXSW. You've seen a lot of bearded people and a lot of Amish-looking bowler hats, and there's always the Stevie Nicks dress-alikes.
All kinds of bands, too; Americana (why do singers fake a twang?!?), synths galore and so much long-haired garage rock and roll—so much stimulation for your senses. Then you spot a familiar face, and another, and another—and an island of El Pasoans in the sea of strangers. And what is that familiar taco smell? Could it be…tacos? That's probably what's going to happen to a lot of El Pasoans at this year's SXSW Fest when they stumble into the first real El Paso showcase party.
This year, with the help of Big Bend Brewing Co. and Mother of Pearl Vinyl, El Paso can finally have a stage to woo revelers.
"When we opened the store, we never thought we'd be releasing records, much less taking our brand to Austin for south by (southwest)," said Eddie Cepeda, co-owner of Mother of Pearl Vinyl, the local all-vinyl store and record label who is hosting the event along with sponsor Big Bend Brewing Co."Part Time was the perfect choice. I've known David (Davida Loca, singer and songwriter of Part Time) since high school and he's always been a prolific song-writer."
Part Time had two previous releases on noted record label Mexican Summer, several Burger Records cassettes and a handful of 7" singles on different labels, but releasing something completely new on Mother of Pearl Vinyl's record label division allowed the band to be more innovative, untethered by music executives. "I was approached by my long-time friend Eduardo Cepeda who had just recently opened up a local record shop in my hometown of El Paso, TX and asked if I'd be interested in releasing a 7 inch. I gladly said yes and thought it was a great idea. I ended up bringing him around fifty new and old unreleased songs to choose from for the 7 inch release. Then suddenly the original 7 inch idea turned into a full length LP reality. This album is different in the way that I have complete creative control over everything on the album! Every single song! Whether or not I want to re-record or polish up a song, art work. It's all my sketches," said Davida Loca.
Part Time's much anticipated 3rd album Return to Cherry on Mother of Pearl's record label division is a window into one of the most ingenious voices in music right now.  The release will be limited to 500 hand-numbered 12" records, and will not see a digital release. "Once those 500 copies are gone, that's it." says Cepeda.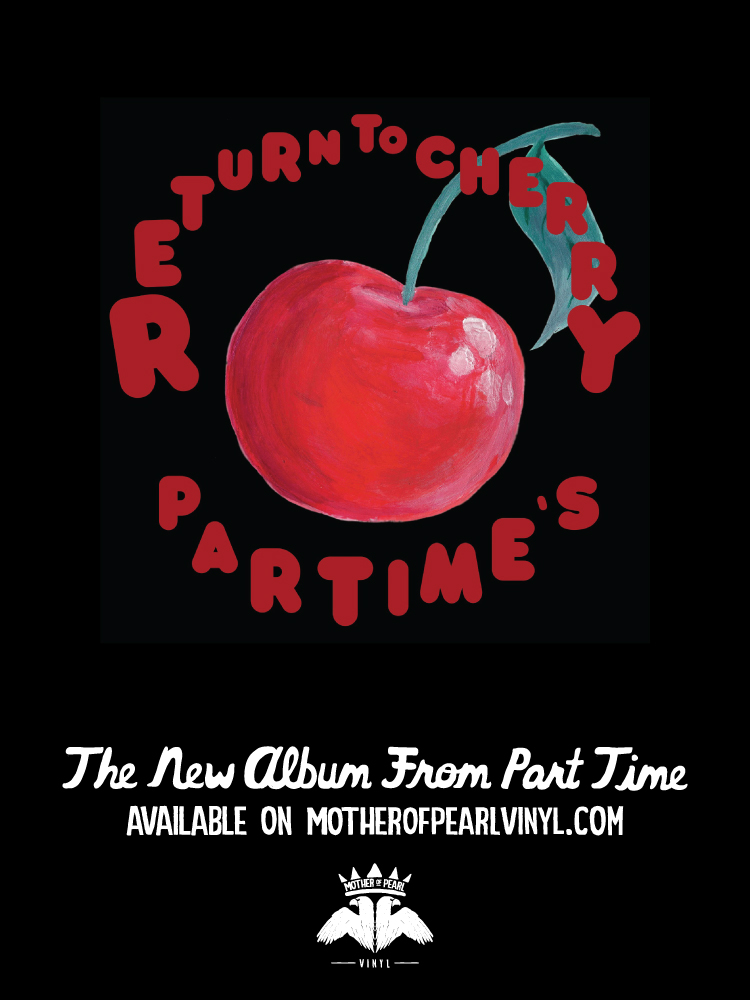 So how does SXSW come to play in all this? "We're putting on a big party to celebrate, and Big Bend Brewing is helping us do it," said Austin Allen, co-owner of Mother of Pearl. "We wanted to take west Texas to Austin, and along with all the El Paso and El Paso related bands we're taking, Big Bend is the perfect partner for this. They are basically our local brewery."
Alpine-based Big Bend Brewing began operations in 2012 and immediately found a home away from home in El Paso. "The support we've gotten from day one in El Paso is overwhelming, and we are delighted to be able to return that support. We love the El Paso music scene, and Mother of Pearl and Part Time are the perfect partners to bring west Texas to Austin." said Mahala Guevara, Controller for Big Bend Brewing.
The lineup for this party promises a rad time. "We have Nalgadas ( Whose debut album is also slated for release on Mother of Pearl) Mattox, Slurr, Crocodile Tears ( a band comprised of El Paso Natives) Big Tits (also boasting members of El Paso origins), garage-rock wunderkinds Daddy Long Legs and a super secret guest who will blow your mind, in a good way or bad," said Cepeda.
And like any great SXSW day party, food has been taken into consideration. "We have a taco giveaway lined up that has NEVER been seen in Austin. We'll probably announce that a few days before but trust me, it's gonna cause a frenzy," boasts Allen.
So how do you go about gaining access to this blowout? Just make sure to send an rsvp email to rsvp@motherofpearlvinyl.com or simply visit the website and click on rsvp.
As for ensuring you aren't left wanting a copy of the limited Part Time album, you can pre-order on their website. They really are going fast too. On the day they put the pre-order up, people in Japan, France, Greece and of course all over the U.S. made sure to order.
Oh, and also, make sure to take a koozy. Wink Wink.