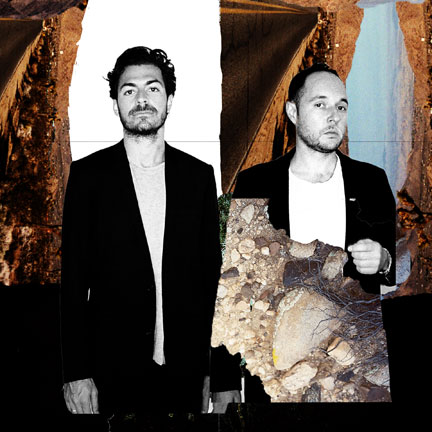 Chris Stracey and Jack Glass, best known by their moniker Bag Raiders, are a nu-disco/house/alternative dance duo from Australia. The music they create is fun, energetic, and guaranteed to ignite the dance floor at any club or house party. Songs like "Shooting Stars," "Way Back Home," and "Sunlight," to name a few, have seen substantial success across the globe. Their repertoire of music is extensive and they're bringing their catalog of songs to The Lowbrow Palace Saturday May 2nd. Fusion had the opportunity to speak with Chris about the emergence of Bag Raiders, their music, and life on the road.
Tell us a little bit about Bag Raiders? How did you two start making music together?
We knew each other in High School.  We were both in the orchestra and choir etc, and we used to sneak out in the breaks and smoke cigarettes and talk about electronic music, we were both heavily into Aphex Twin and Autechre and anything Warp Records related at the time.  We used to swap CDs with each other etc. and a couple of years after school finished, we linked up and started fooling around with a computer and a synthesizer and the rest as they say is history.
You guys have a ton of EP's, Singles, and remixes under your belt. What are some of the challenges you face with keeping your music fresh and relevant in a time where we are so saturated with House/Electro/Dance music?
I think the fact that we are so saturated with this type of music at the moment means it's a great time to not do what's "on trend."  We never really set out to make a particular genre of music.  In fact we don't pay too much attention to current musical trends.  Our production history is all over the place.  We've done dance, hip hop, techno, synth pop, songwriting and lots of experimental stuff in between.  We just try to stay true to what we like, and I think that's key.  Honesty will always see you through in music.
Your self titled studio album is a huge success, what were some of the high points with making that album? And what were some of the challenges?
Thank you!  I suppose up until that point, we had only ever released singles and done a few remixes, mostly club tunes.  The album was a great chance to have some fun experimenting with songwriting.  It was a lot of fun to do, but also a daunting task.  There's always that moment when you're working on something and you think "hang on, what the fuck are we doing, is anyone even going to be into this shit?" But in the end we had a lot of fun doing it, not being restricted to any one thing, and I think the fun we had shows in the music.  So in a way I would say the high points are the challenges and vice versa.  Whoah. zen.
What is something we don't know about Bag Raiders that you can share with us?
We both often spend time trolling airbnb looking for random remote places that would be cool to take a bunch of instruments and do some writing trips…somewhere naturey because we like to go on bushwalks.  I feel some Norway coming on!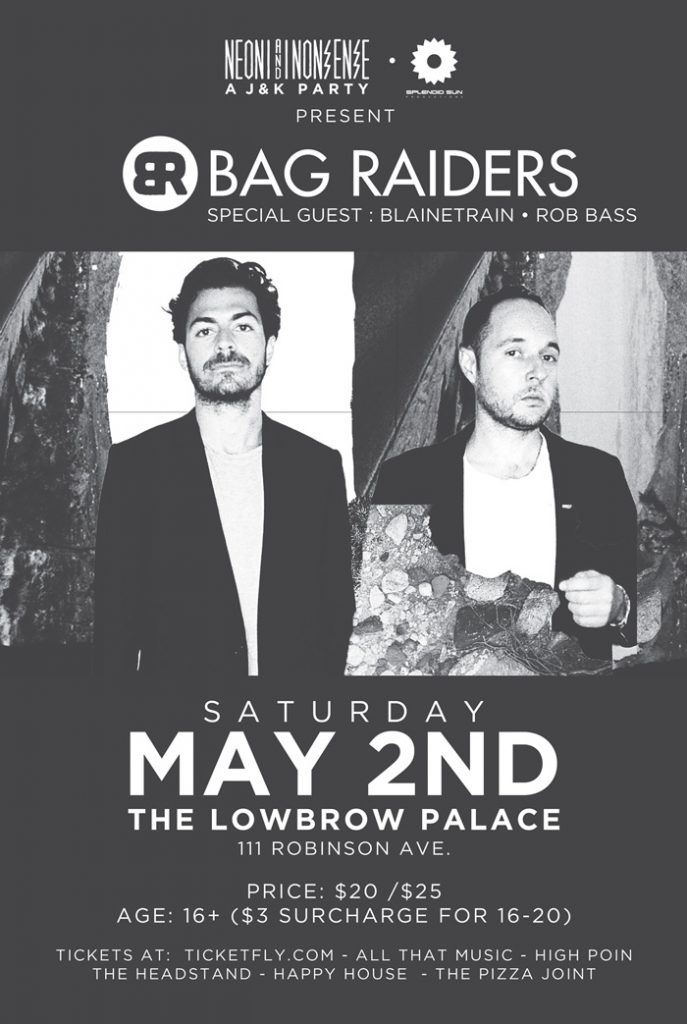 Who are some musicians you admire and listen to on a daily basis?
Prince, Nina Simone, Susumu Yokota. Elliot Smith.  Been listening to a lot of classical music lately actually.  Anything that gives the feelings.
You guys are currently on tour. What's life like on the road and what essentials do you take with you?
Life on the road is unreal.   In that it's very far from "real life".  You have these reflective moments of solitude and calm in airplanes and hotel rooms etc, then you go to a club and play really loud music for a couple of hours and dance around like crazy.  It's very zero to one hundred like that.  I've been lately reading like crazy so my kindle has been up there as an essential.. Oh and noise canceling headphones.  A lot of the time i put them on and listen to nothing, so i can keep myself in my own quiet world.  i've even slept with them on before just to drown out hotel air conditioning hums.  I also eat a shed load of chocolate on tour.  So you know somewhere in iceland a whole family is orgasming haha..
Is this your first time performing in El Paso, TX? What can we expect?
Not only is it our first time playing in El Paso, but it's our first time playing in Texas EVER… We're pretty excited about it!!! Our friend told us it being a border town that there's lots of people coming in and out for a good time and that the people party like crazy there so we can't wait!! We're also at a time where we've been writing a bunch of music so we are road testing some new stuff at our shows at the moment so there's that. See you soon!