We have been told that we don't matter, that we don't vote, that our generation is apathetic. We have heard voices warn us about false hope and they will only become louder in the weeks to come. However, working hard to overcome obstacles and match our potential has always been the main theme in this exceptional story of our city.
I'm writing this letter to you because I want to be your voice. The fact of the matter is that the largest demographic block in El Paso and the region is made up by folks like you and me who are under 40 and who are working hard everyday to make El Paso and our families proud. If you take a look at the rest of the candidates, you will see that I am the only one who understands that if we are able to move forward, we cannot do it without people like you. The other candidates in this race are counting on you to stay home on May 9. They are hoping the same low turnout that showed up to vote in past elections show up for this one. Our own apathy is our own worst enemy.
Essentially, they want the same uninspired, middle-of-the-road, unremarkable status quo we have now. They want to continue the trend that has held our District and our beautiful city back for generations.
I'm not having it.
We are in a critical moment in our city's history, and I could not be more emboldened when I see the hard work you, our friends and our families do every day to put our city on the map; you inspire me. Like my friend Octavio who took an incredible risk to start his own restaurant. Octavio now, through hard work, dedication and vision, has many food service establishments around the city that could thrive anywhere—and I mean anywhere. But he chose to have them here, in his city, our city. Like my friend Gabe, who decided to open a brewery downtown, not because he wants to change El Paso, but because he wants to grow with our community. He believes in the special and unique potential of our city, and he's ready to capture opportunity. Like my good friend Emilio, who graduated from one of the best universities in the country and couldn't give up the opportunity to come back here, become a doctor, start his family and strengthen his roots in our Sun City.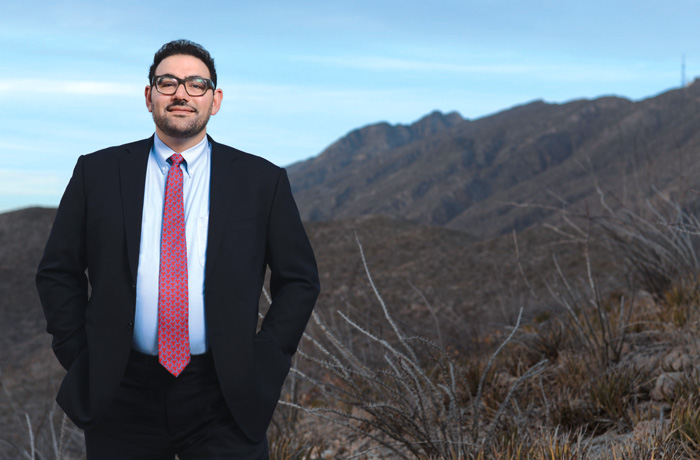 Home is where we have a history. When I go hiking with my girlfriend to the Franklin Mountains State Park and I feel the searing heat of the desert, I think of my family, my mother, my father and the history that we hold here. I think of you, of the future and our potential. The opportunity we have today, this year, in this election, is not just an option—it is an obligation to show the world that to live in the border doesn't mean to live under threat, but it means to live in a land of opportunity. I'm talking about a responsibility not just to ourselves, but to future generations to keep building a better Borderplex. We need to have a vision before we know where we are going, for we cannot direct the wind, but we can adjust our sails.
I believe in helping you out when you want to start a business by using our incentives programs. I believe in taking advantage of those programs to attract good jobs above the median salary ($12.50). I believe that if we do this, we can lower property taxes for you and your folks. I believe in making jobs available for our younger generations so they can stay here and work closely with their families. I believe in giving opportunities to the youth. I believe in transparency and good representation (call me, I'll buy you coffee! 915-246-4778). I believe in parks, hiking trails and bike lanes (dog parks too!). I believe in embracing and protecting our history. I believe in being business oriented. I believe in looking at old problems in new ways. I believe that if you only have a hammer, you tend to see every problem as a nail.
We need a Fresh Perspective.
I believe in El Paso.
I believe in us.
I believe in you.
Sincerely,
Peter Svarzbein
————————
FOR MORE INFO: epcountyvotes.com/election-information/current-election/
*Political Advertisement Paid for by Friends For Peter Svarzbein