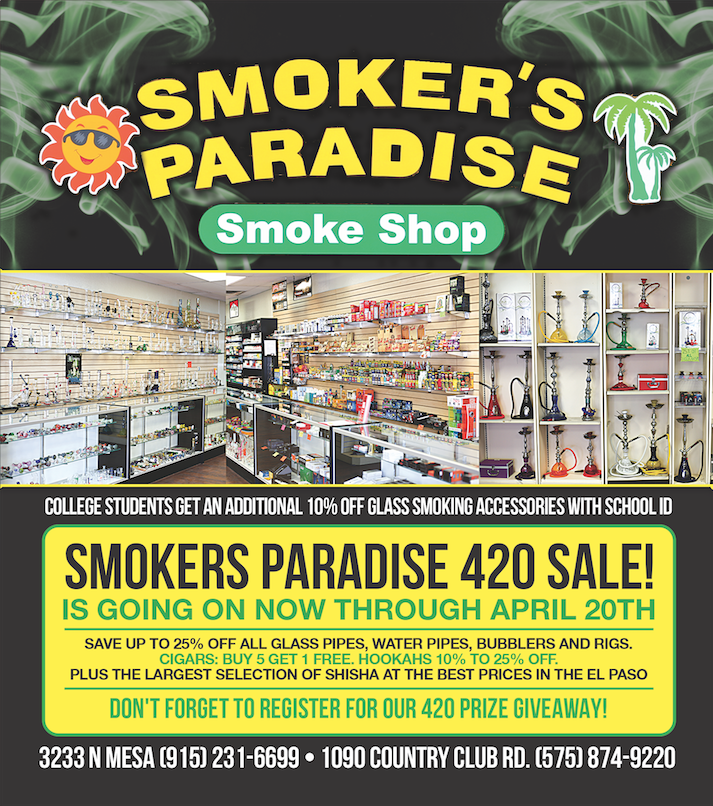 Smokers unite this 420 to celebrate that most beloved of vice-inspired holidays. Smokers Paradise, located at 3233 N. Mesa and 1090 Country Club Rd in Santa Teresa, will commence this highly anticipated celebration with sales and giveaways. The Santa Teresa location will also have live glass blowing going on all day.
"Four twenty is a big smokers' holiday, and we'll have sales on hookahs, tobacco, cigars, pipes and glass smoking accessories," said store manager Allen Kirby. "Basically everything gets discounted and we'll have big giveaways of hundreds of dollars' worth of merchandise."
This will be the second annual 420 event at the N. Mesa location, and number 11 for the store on Country Club Rd. Kirby said business really gets cooking a few days before the event.
The stores' signature products are its hand blown glass pieces, ranging in size from little hand-held devices to monster designs of pristine, gargantuan smoking delight.
Smokers Paradise house brand is Blown Glassgoods out of Albuquerque. Known for their precise, impeccable craftsmanship, it's little wonder their products line the walls and shelves of the stores.
Glass works gurus, Austin-based Grav Labs also has a show of force at Smokers Paradise. With their renowned "scientific production" and focus on exceptional bubblers, pipes and bongs, the products are a perfect fit for the discriminating smokers who make up the clientele at Smokers Paradise.
California company, Zong Glass, is also a house favorite at the shops. A variety of local glass artists' creations are on hand as well.
Each store has vaporizers and e-cigs in stock.
And smokers' cough be damned because, according to Kirby who is an industry veteran, "healthier" devices like vaporizers and e-cigarettes can offer a more refined alternative to traditional smoking implements.
"With vaporizers you're just inhaling the active ingredient itself, instead of all the carcinogens," he said. "If you still want to be a smoker, that's the real way to go right there."
The shop in Santa Teresa has two cases of custom-made pieces, ranging from $300—1,000.
"Some of them [glass artists] are absolute sculptors who do outstanding work," Kirby said. "Even though they could make glass figurines and stuff like that, the majority of what they make is glass pipes because that's where the money's at. It's still considered counter culture though."
Connoisseurs, novices, dabblers and OG's are all invited this 420 to celebrate with awesome discounts and giveaways at Smokers Paradise.
El Paso: 3233 N. Mesa Ste. 202; 915-231-6699
Santa Teresa: 1090 Country Club Rd.; 575-874-9220
facebook.com/smokers.paradise.16
Text: Denise Nelson Prieto